I have been making minor improvements to my home this year and have picked out some of my favorite pieces to give each space a new look. Unfortunately, the main bedroom in my house is usually the last to get a refresher, so I want to prioritize this space. For today I have some of my favorite bedroom essentials, from decor to main furniture pieces, for this makeover to share with you; let's get started.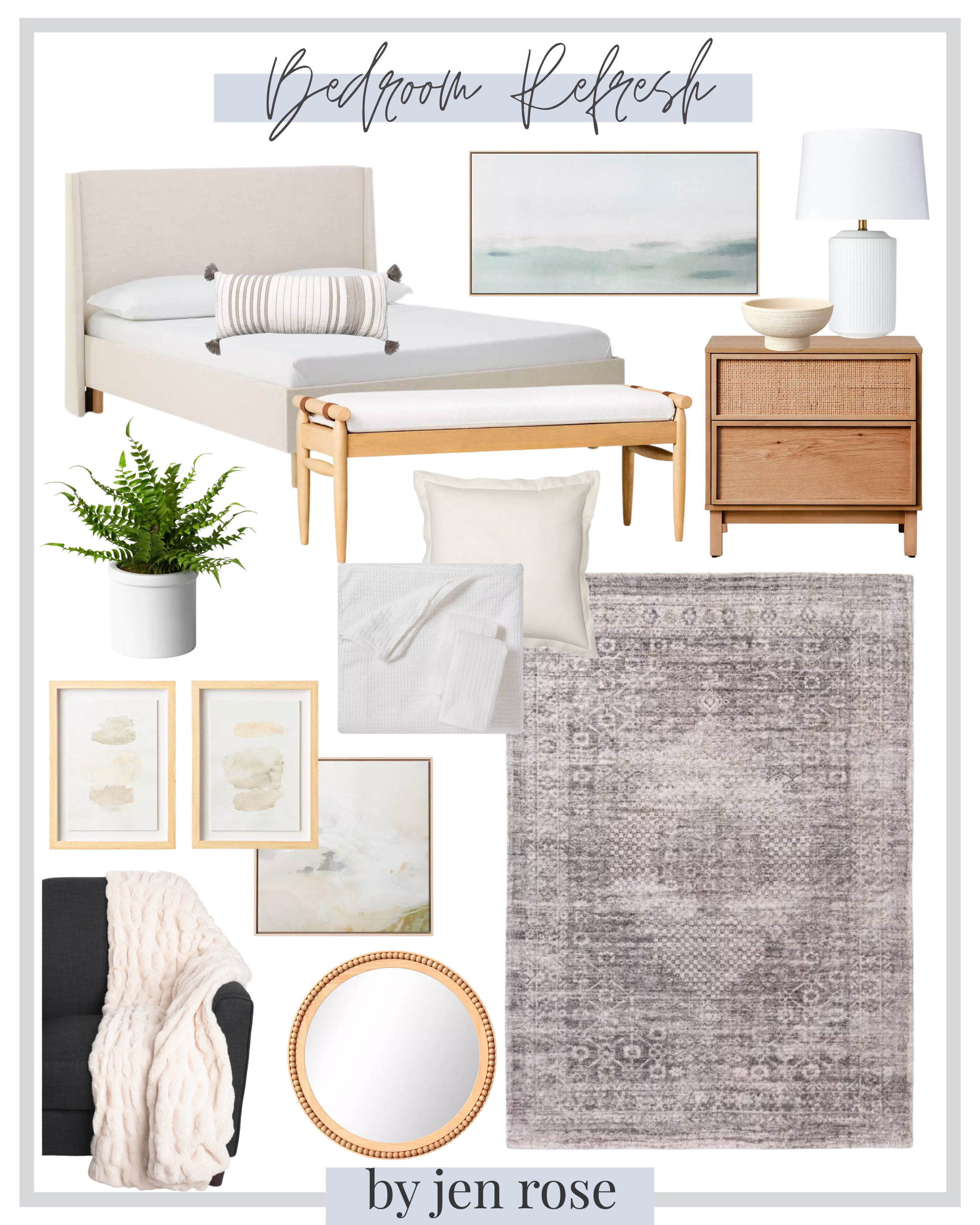 Bedroom Furniture
I have been eyeing a new bedframe for a while now and looking for a tall neutral headboard. Keeping the base of the bed a softer color is a safe bet for any aesthetic so that you can have more options for bedding and decor. Personally, I love these Upholstered Bedframes; they are very similar but can be very different depending on your style. Adding a Bench to the end of your bed is an easy way to add dimension to this space, and the extra seating is a bonus. Finally, a Bedside Table is essential; I don't know how people do without them. Specifically, one with storage to clear up space on the top.
Decor Makeover
When decorating the bedroom, I try not to go crazy on decor in this room because It can get overwhelming quickly. Instead, I like to stick to neutral statement pieces on the walls, such as these Haze or Watercolor Mountian Canvas. If you have a large dresser, I would add this Round Wooden Mirror for a chic touch. The easiest way to give any room some new life, not just the bedroom, is to bring in some Faux Stems.
Bedding Picks
Adding some new bedding to your bedroom is the easiest way to give this space a new look. I'm always a fan of a classic white comforter, but this Waffle Duvet is a unique twist. A cozy throw blanket is also a staple, and I love this Faux Option, a dupe for pottery barn blankets. Last but not least, you'll need some throw pillows to give your bedding some depth. Again I have to go with this Neutral Pillow because it goes with everything!
Making improvements to your home doesn't have to be a colossal makeover. Adding a few new pieces can elevate your space. A new duvet cover or fresh wall artwork is the perfect bedroom refresh. Don't forget to throw in some greenery! Tell me in the comments which one of these pieces you loved most. Shop everything here:

---