It's almost getting time to pull out our warmer clothes for the fall season! I love all of the looks this time of the year, from all the layers to the warm neutral color tones. I have picked out a few of my favorite pieces so far that I think will make for the perfect addition to anyone's fall wardrobe. I have everything from sweater chic outfits to a more laid-back look, so let's get started!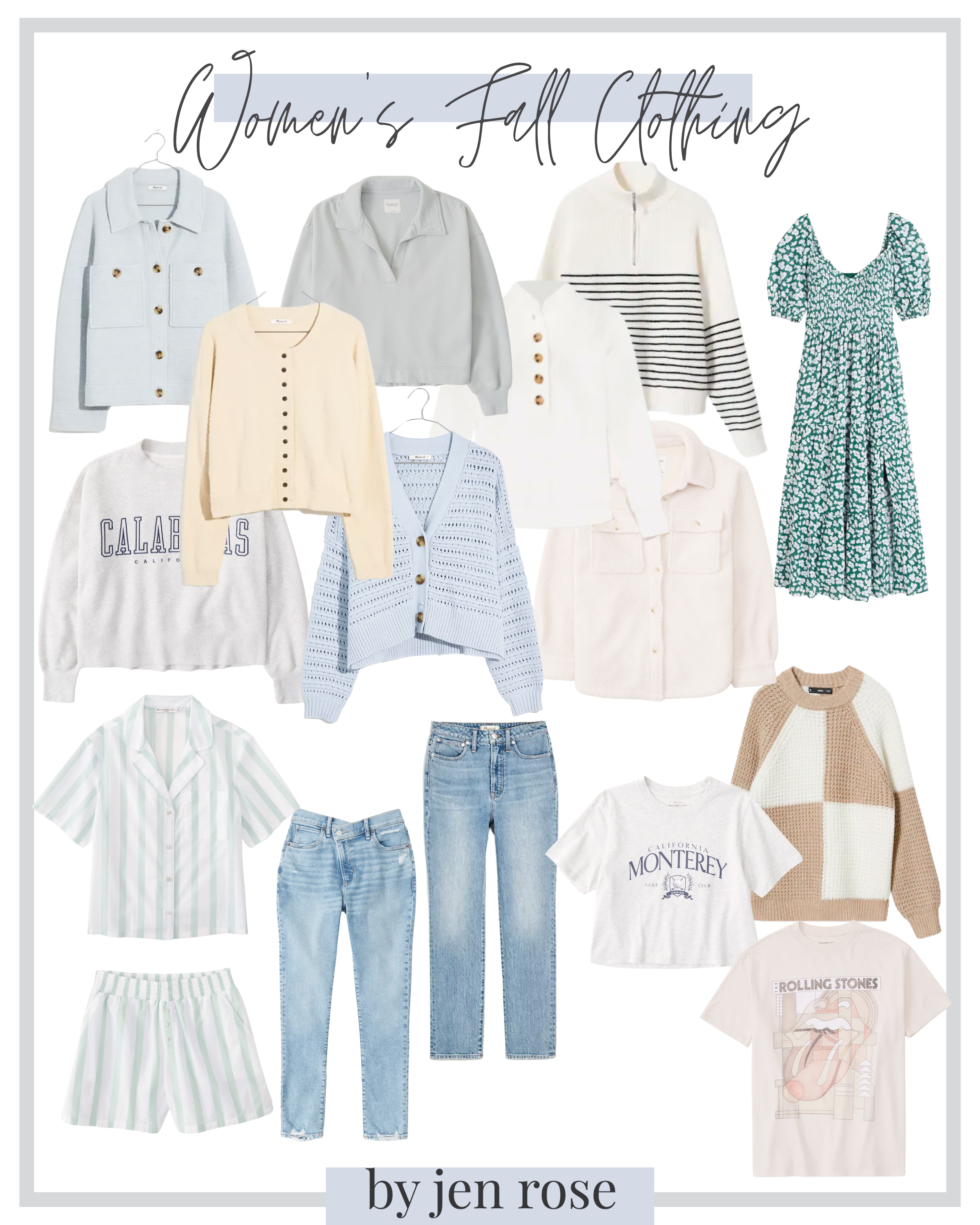 The Perfect Knits
Knitwear is super popular during this time of the year, and there are so many different ways you can wear this material. Starting off with one of my favorite pieces is this Tanfield Open-Stitch Cardigan Sweater that would be perfect for dressing up a simple outfit. This Reverse knit sweater is the perfect center point for any outfit that can be paired with these Perfect Vintage Jean in Heathcote Wash. If you are not ready to give up those summer vibes, this Striped knit sweater reminds me of the beach mixed with fall. Another great pullover option is this Ribbed Button Placket Sweater which is perfect for throwing over any outfit on colder days. Last but not least is this simple Brampton Crop Cardigan Sweater that is great for any occasion.
Laid-Back Fall Looks
My favorite part of the fall is the colder days. I get to cozy up and wear basic outfits that are somehow effortlessly aesthetically pleasing. An oversized sweatshirt is essential for this time of the year, like this 90s Sharkbite Calabasas Graphic Sweatshirt. If you want to dress up this same look, I suggest this Johnny Collar Swing Crew Sweatshirt. The collar makes it fancy…obviously. You can also never have enough graphic tees, such as this super simple Cropped Country Club Graphic Tee. This Oversized Boyfriend Heavyweight Rolling Stones Graphic Tee has the perfect colors to represent fall and would be cute paired with these Curve Love High Rise Super Skinny Ankle Jeans. This Poplin Sleep Shirt and Poplin Sleep Boxer Shorts are adorable for those extra lazy days when you want to lounge around the house.
Jackets & Perfect Fall Dress
The perfect fall outfit starts with this beautiful Short-Sleeve Smocked Midi Dress that is perfect for any occasion. Now it is fall, so you might need a jacket to pair with this look; maybe this Crop Sweater Shirt-Jacket to bring out the blue in the dress. Even though I love that jacket, we also need one that will go with almost any outfit that can be thrown on in an instant. I'm a big fan of this Sherpa Shirt Jacket, which is a pretty cream color.
I hope you were able to find some inspiration for your fall wardrobe this season! Let me know in the comments what you are shopping for this fall. If you enjoyed some of these pieces, you can shop all of them here:

---