Spring is almost here, which means Easter is just around the corner. So it's time to start thinking about how you can decorate your home for this pastel-themed holiday. Whether you're hosting a family gathering or want to add festive touches to your living space, here are some Easter home decor staples to inspire you.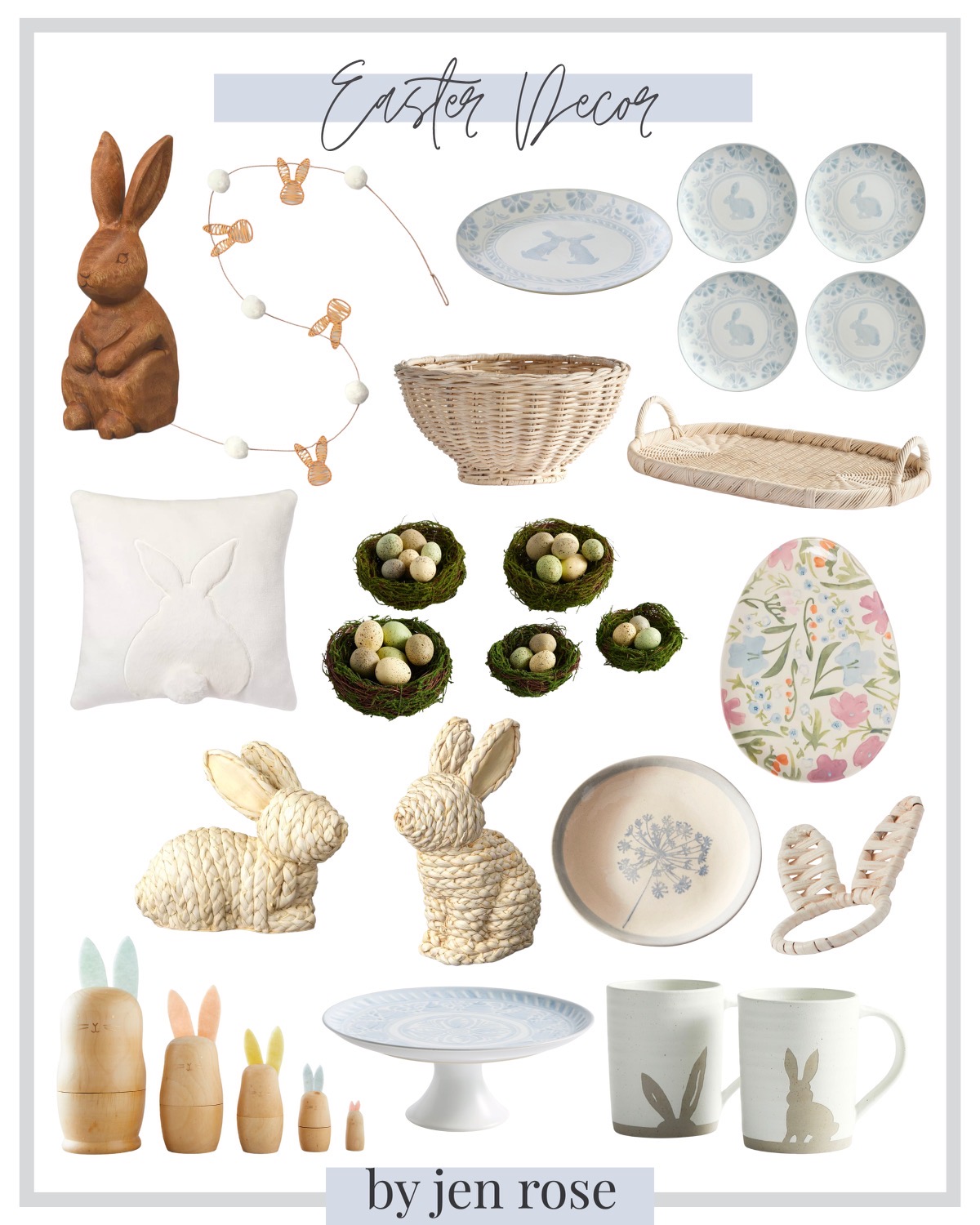 Easter Table Setting
Easter brunch is a long-time tradition in my family, which I'll host this year. So I grabbed these Chambray Tile Bunny Plates and Matching Serving Tray to improve my game. This matching Cake Stand is also adorable for displaying desserts or delicious bread rolls. If you want to impress your guests, I would snag these lovely Bunny Ear Napkin Rings.
Easter Bunny Staples
Don't forget to include the star of the show in your decor this season. The Easter bunny has surprisingly cute decor variations, such as this Woven Figurine. Or this Wooden Bunny would look adorable in the entryway or by the fireplace. Throw pillows are a great seasonal decor staple, and this Faux Fur Bunny Pillow is the cutest. Lastly, add some of this Easter Bunny Garland to your railings and console tables.
Pastel Accents
Easter is synonymous with pastel colors, so why not incorporate them into your home decor? Soft shades of pink, blue, yellow, and green can add a fresh, cheerful touch to your space. Place these Moss Nests with Faux Eggs all around your home to lighten up your home. I also love these Wood Nesting Ester Bunnies for a centerpiece; they are adorable. Consider displaying this Egg Shaped Serving Platter in your dining or kitchen area.
Easter is an excellent opportunity to add some festive touches to your home decor. Whether you prefer a pastel color scheme, fresh flowers, or bunny decor, there are plenty of ways to make your home feel Easter-ready. With these ideas, you can create a warm and inviting space for family and friends to enjoy this memorable holiday. So tell me in the comments some of your traditions, and shop these staples here:

---