Christmas time might not even be on your mind yet, but it sneaks up on us. We are already at the end of October and will be in full swing of the holiday season soon. As a result, I have been needing to freshen up my Christmas decor and have found some adorable chic pieces that are worth keeping for years to come. Let me show you some of the jolly pieces I've seen!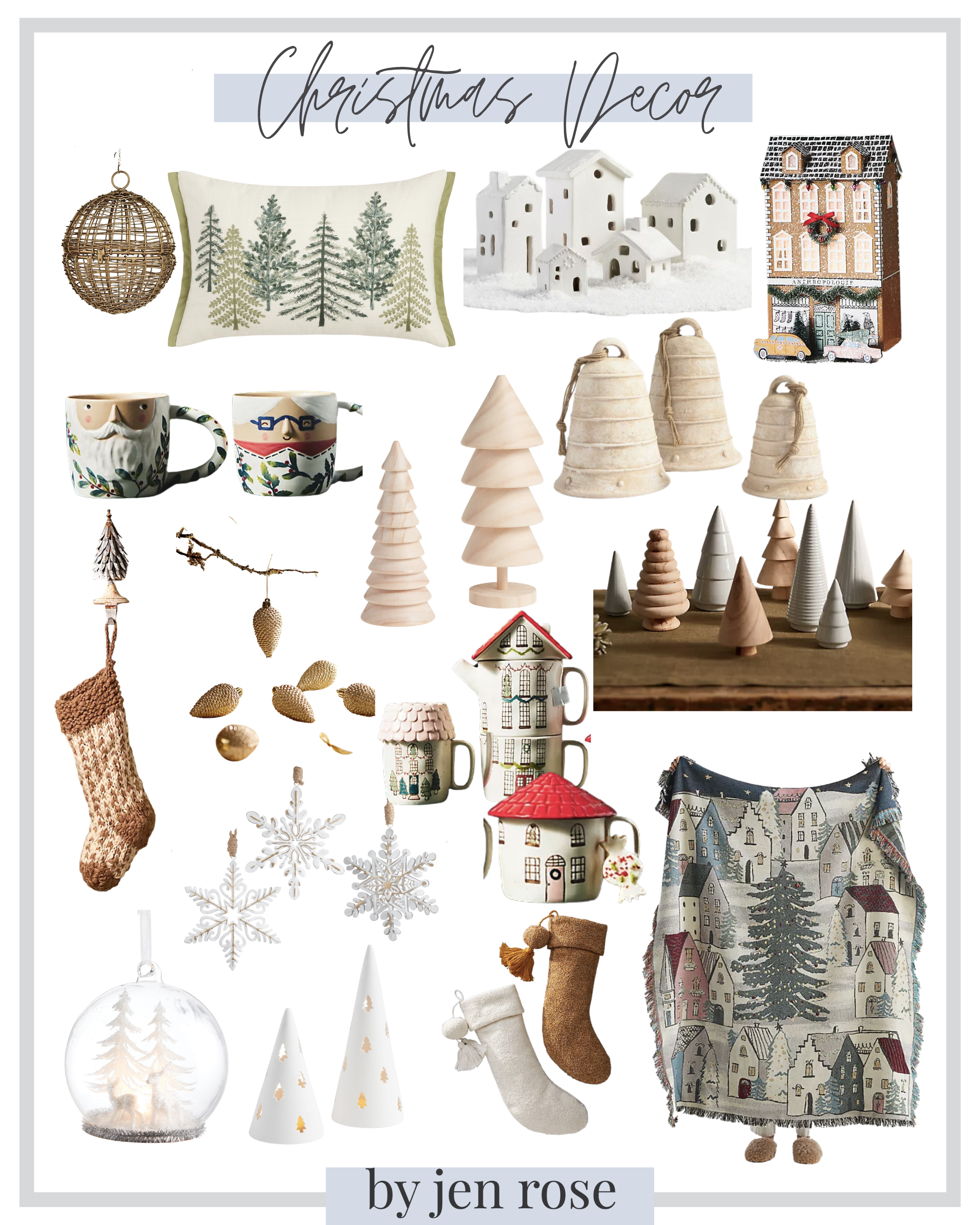 Unique Decor Finds
I started searching for some pieces that were too good to pass up. My favorite holiday piece I found is this adorable Cozy Home Mug Set. I have never seen anything like it. Another piece that I'm obsessed with is this Woven Chandler Throw Blanket, the perfect Christmas throw blanket to add to your sofa. For some more display options, this George & Viv Light-Up Anthropologie Store is such a collectible, something to treasure for Christmases to come.
Christmas Ornaments
I have not been able to give my Christmas tree an aesthetic yet, with all the matching and color-coordinated tree ornaments. However, we can start with these Artisan Handcrafted Ceramic Bells for a classic look. Next, these Ivory And Gold Metal Snowflake Ornaments are gorgeous if you are into the chic and flocked look on a tree. My favorite accents on a Christmas tree are gold ones, such as these Pinecone Shatterproof Ornaments that are great for filling any negative space. The last piece I found is this Sphere Wire Ornament, which is just super neat, and you can fill it with anything you like, a family picture or candy!
Traditional Christmas Finds
Christmas is a traditional holiday that has its essentials in the decor department. First, you need some adorable stockings dangling above your fireplace, and these Bouclé Stockings and Herringbone Knit Stockings are perfect! Next, when I think of Christmas, I'm reminded of nativity sets and little village displays. This is why these Handcrafted Ceramic Christmas Village houses are great because it matches anyone's style. The final piece of Christmas decor is these White Ceramic Conical Tree Hurricane Candle Holders that are perfect for layering in your home's entryway.
I know everyone says this, but Christmas is my favorite holiday because there is joy in the air during this time. Also, I love decorating my home for this holiday because my whole family helps! So, tell me in the comments what your family's favorite Christmas tradition is! If you loved any of these pieces as much as I did, you could shop them here:

---