The holiday season is sneaking up on us. Just like that, we are at the end of October, and I have no doubt November will slip away from us quickly. I have been thinking about gifts for my family and loved ones and thought I would start with jewelry. Jewelry usually makes for a very personable and great gift because you don't have to worry too much about getting the wrong size for someone. Nonetheless, let me show you some of my favorite pieces.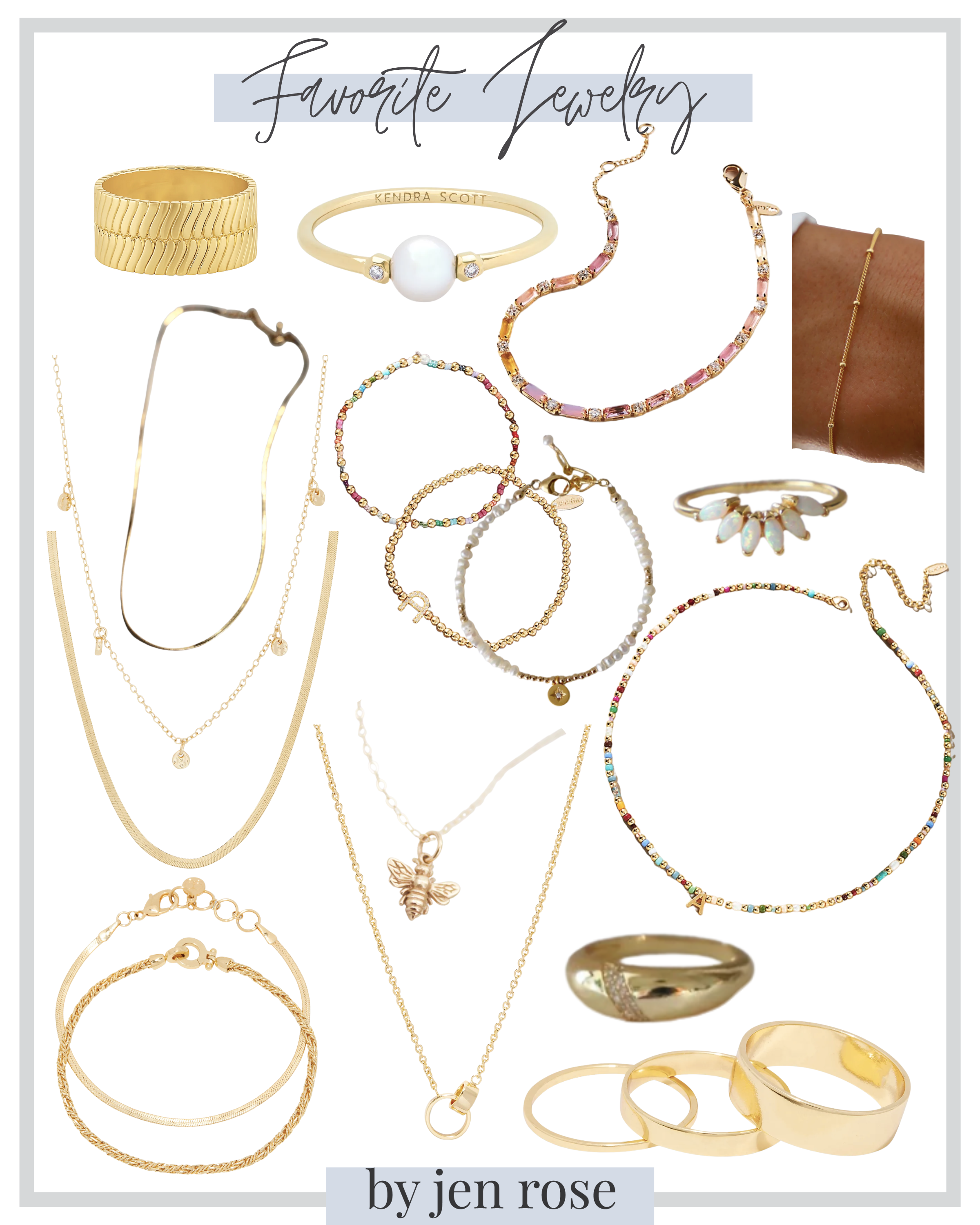 Favorite Rings
You might have to dig to find the right size ring, but it's worth it for how adorable these options are. First up is this Rose Ring Set, which are some of my favorite rings to wear in a stack or mix and match with other rings I have. Next, I loved this OPALITE CROWN RING that is also perfect for stacking, especially with this Cathleen 14k Yellow Gold Band Ring in Pearl. The last option is this timeless Eva Dome Ring that matches any outfit, so you never have to take it off.
Necklaces Make the Best Gift
They really do… a person can never have too many necklaces. They are the perfect accessory for any outfit. My favorite is this Rose Interlocking Necklace; I never take this off. It is so simple, and I love it! This Multicolor Monogram Choker Necklace would be such a cute gift. I want to grab these for my girls & me for Christmas! For a more sleek and sophisticated look, I recommend this Venice Necklace. Last is this 5 Disc Choker that is perfect for layering with other necklaces and is adjustable.
Bracelets for Gifts
I feel like stacking bracelets has come back into style recently, and I love the idea. This simple touch can make an outfit. My favorite piece is this Baguette Tennis Bracelet; the different shades of pink are so pretty in this. If you want a matching set to this Multicolor Monogram Choker Necklace, then this Monogram Bracelet, Set of Two is perfect. Last but not least is the Venice Mini Bracelet Layering Set, which is already layered, so you don't have to.
I can barely wait for the holidays, and I know the shopping has already started, so make sure not to get behind this year! I love giving jewelry as a gift, especially to the ones closest to me. Tell me in the comments what your favorite gift to give is! If you want to shop for any of these pieces, you can find them here:

---