I know when it comes to girls they can be pretty picky when it comes to setting up their bedroom decor. I think starting with a neutral base for any room is a great start, and from here you can customize it to your liking. Some basics I have picked out are for the subtle girly girl who wants a clean but aesthetically appealing room. Let's take a look.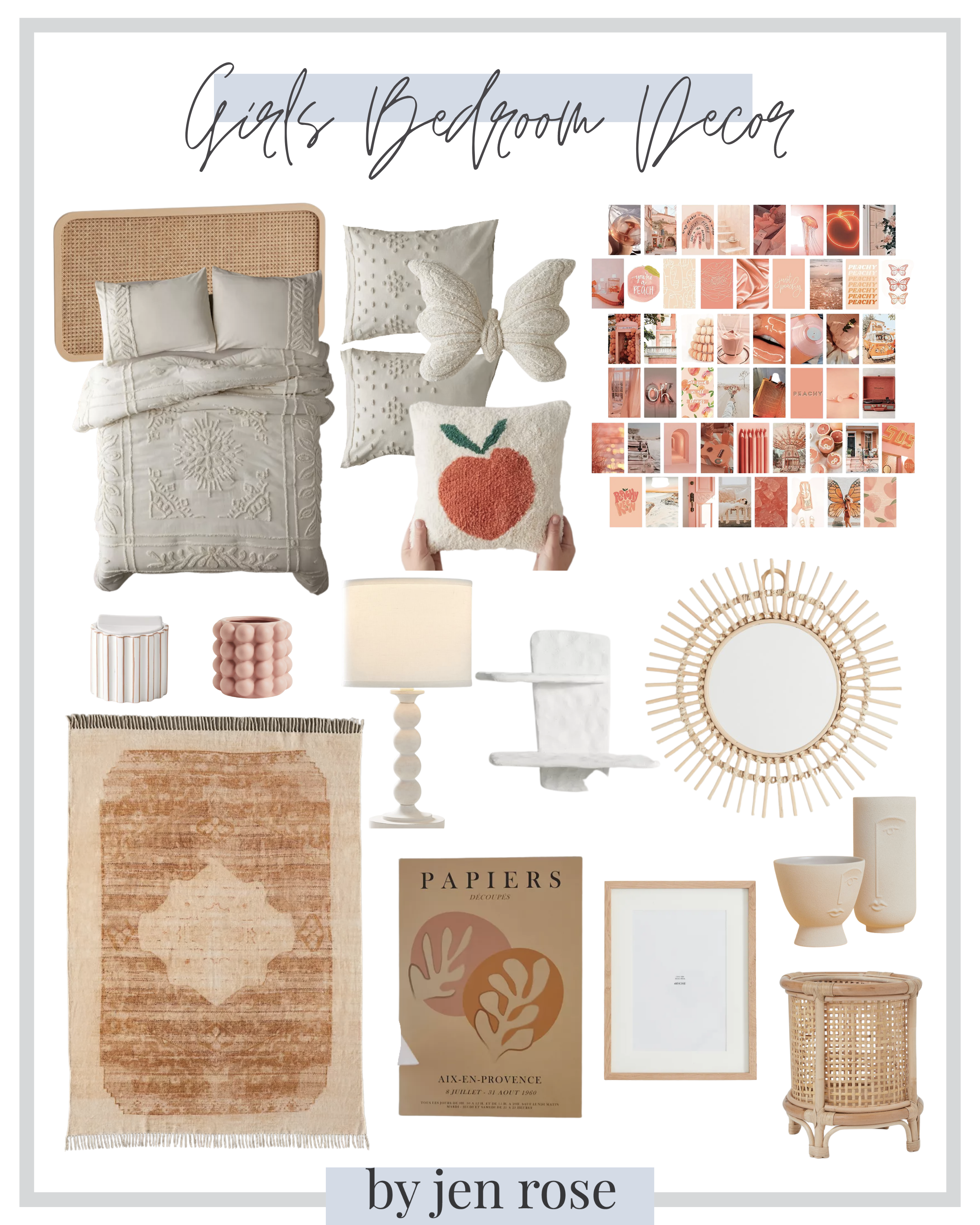 Bedding
Probably the focal point of any bedroom. If you don't have much going on in your space, bedding is a great way to spruce it up. Starting with this pretty universal Cane Wall-Mounted Twin Headboard that would look great in any color scheme. For the bedding, I like to start with a neutral base such as this beautiful Jackie Tufted Comforter that matches this Fair Isle Tufted Sham Set. A cute pair of throw pillows is all you need to bring this bed set up to life, such as this super cute Boucle Butterfly Throw Pillow or this Peaches Tufted Mini Throw Pillow.
Storage
We all know that girls have a lot of stuff and it is not always easy to find a way to store everything and make a space still look good. For starters, I love this unique Margot Double Wall Shelf that is great for adding some accent pieces to your wall and displaying nic-nacks.  If you are trying to free up some desk space I suggest this adorable Small Plant Pot with Bubbles or Talma Ceramic Stash Box. If you want something a little more noticeable that looks like decor I think these Stoneware Vases are a super great detail. Lastly, this little Rattan Plant Pot is perfect for storing blankets or any miscellaneous items.
Decor
This is my favorite part of putting a room together, as I think it's everyone else's too. Starting on the wall, we want some simple but cute decorations like this PSTR Studio French Masters Leaf Duo Art Print. This Large Rattan-framed Mirror is a great piece to hang over a vanity or above a dresser. I know mood boards are super in and I found this super cute 50Pcs Peach Wall Collage Kit Aesthetic Pictures, Boho Wall Collage Kit, and Aesthetic Pictures for putting all over a room that is already cut out and ready to go. A rug can really tie a whole look together, and this Ediana Washed Chenille Rug brings the perfect amount of color without being too much. Did you think I would forget this adorable Naturalist Table Lamp? It is simple but has the right amount of girliness in the design.
I hope you were able to find inspiration for your girl's bedroom with this post. Let me know in the comments if you want to see any other styles of bedrooms! If you liked any of these pieces, you can shop them here:

---