Looking to refresh your space with minimal effort? These home decor pieces can easily be incorporated into a variety of design aesthetics or work together to create a beautiful clean look, so let's get started!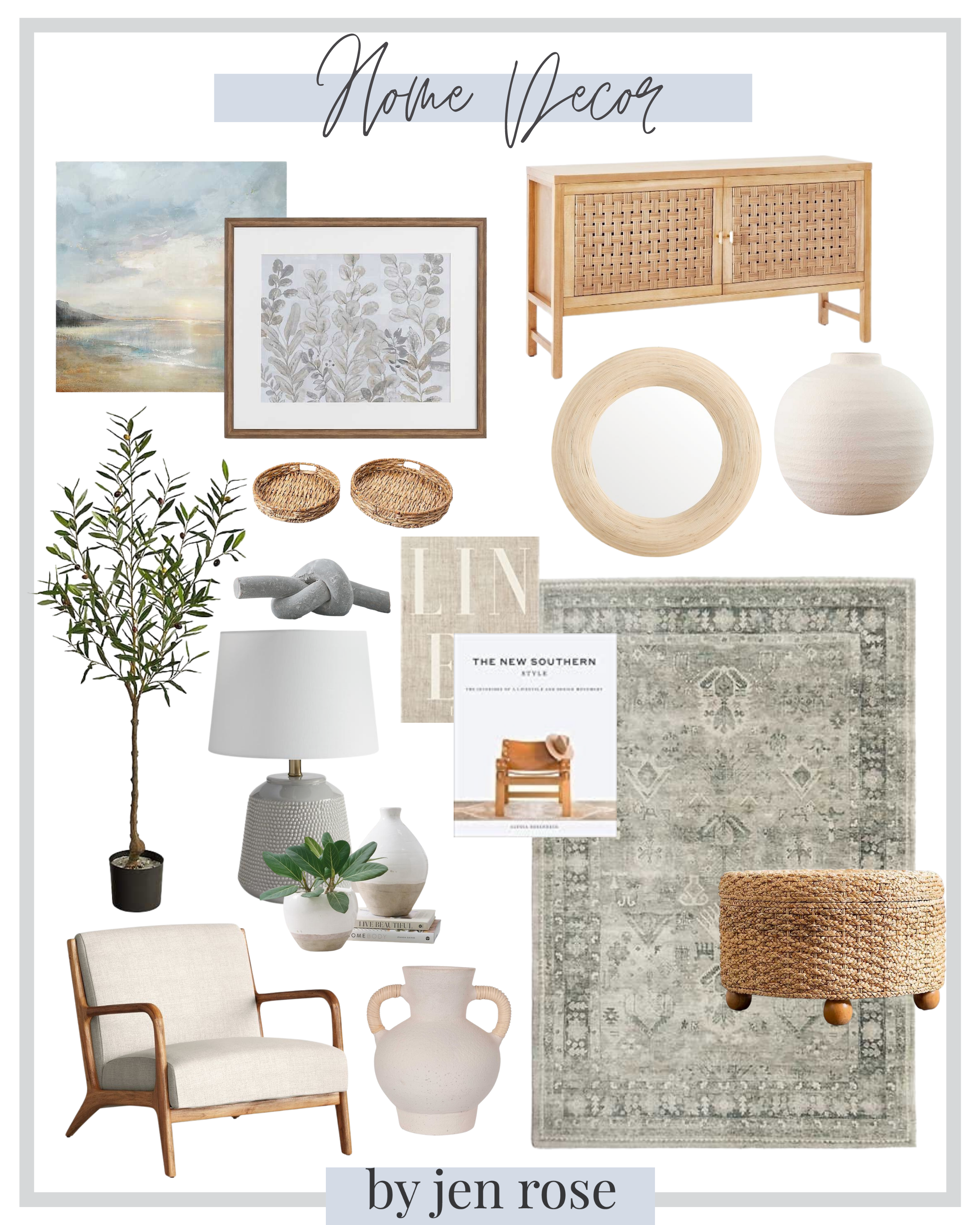 Neutral Browns
All of these pieces together are probably a mood board for my dream home, but let's break it down. I like to lean more towards neutrals in my design aesthetic because it makes a space feel more open and light. Starting at a room's core, usually with bigger pieces of furniture like this Woven Door Console and wood armchair. Both are great pieces that pair well together. This storage ottoman has the same color and textures to throw into the mix, so it easily blends in with the other pieces. If you are working with a bigger space and trying to incorporate this color and texture throughout the room, these Hyacinth 2-piece tray sets are perfect to place just about anywhere to tie in the theme.
Dull Gray
The same neutral theme, just a different color scheme. Browns and grays do look great next to each other in a space when done right. For instance, this gray graphite area rug would look great just about anywhere because of its muted color and design style. It works with a variety of home decor. Subtle gray works great in any space, especially in the living or bedroom areas. This ceramic table lamp is very elegant and perfect for your end tables. I have seen these ceramic knots everywhere, and I love this gray one. It looks great as a centerpiece on your coffee table, shelf, kitchen corner, or anywhere else.
Wall Art
Scenery and landscape art always look great in a home, and it's easy to bring those natural elements into a home without trying too hard. This sunset canvas piece is beautiful, and I would not mind looking at it every day. Personally, I would style it as the main piece on my all and add smaller pieces around it. The same thing with these growing leaves prints art, a great piece I would hang up in the kitchen or bathroom for a simple design touch. Consider a wall mirror if you are unsure about art and need a small space filled. I love this round rattan mirror for adding to a corner or a wall that just needs a little something.
Accent Pieces
Decorating is the best part of putting together any space; all these pieces are great for adding those finishing touches. Vases always add a sophisticated look to decor, and I love this terracotta table vase with handles layered next to this matte eggshell vase. Their similar colors but different textures can add a lot of dimension to your table as a centerpiece. Coffee table centerpieces are always a talking point, and I like to showcase my favorite pieces. This linen decor and southern interior design style hardcover books are great for leaving out or picking up for more inspiration.  My last design idea is adding some greenery; you can never go wrong with this style tip. Whether it's a larger standing plant such as this olive tree or a smaller plant in this terracotta vase. Greenery will always make a space feel lighter and incorporate natural elements in a home.
Let me know which home decor pieces were your favorite in the comments!
---