I love how loungewear is socially acceptable now in the fashion world and considered cute. Sign me up! While I enjoy getting dressed up and going out with friends, I also enjoy looking cute when I'm lazy. The best part about these outfits is they don't require much effort, and the clothes do that for you. An excellent way to stay looking cute in your loungewear is by playing around with the different colors and fabrics that go well together. A simple good, quality hoodie is sometimes all you need to feel put together, so let me show you some of my favorites.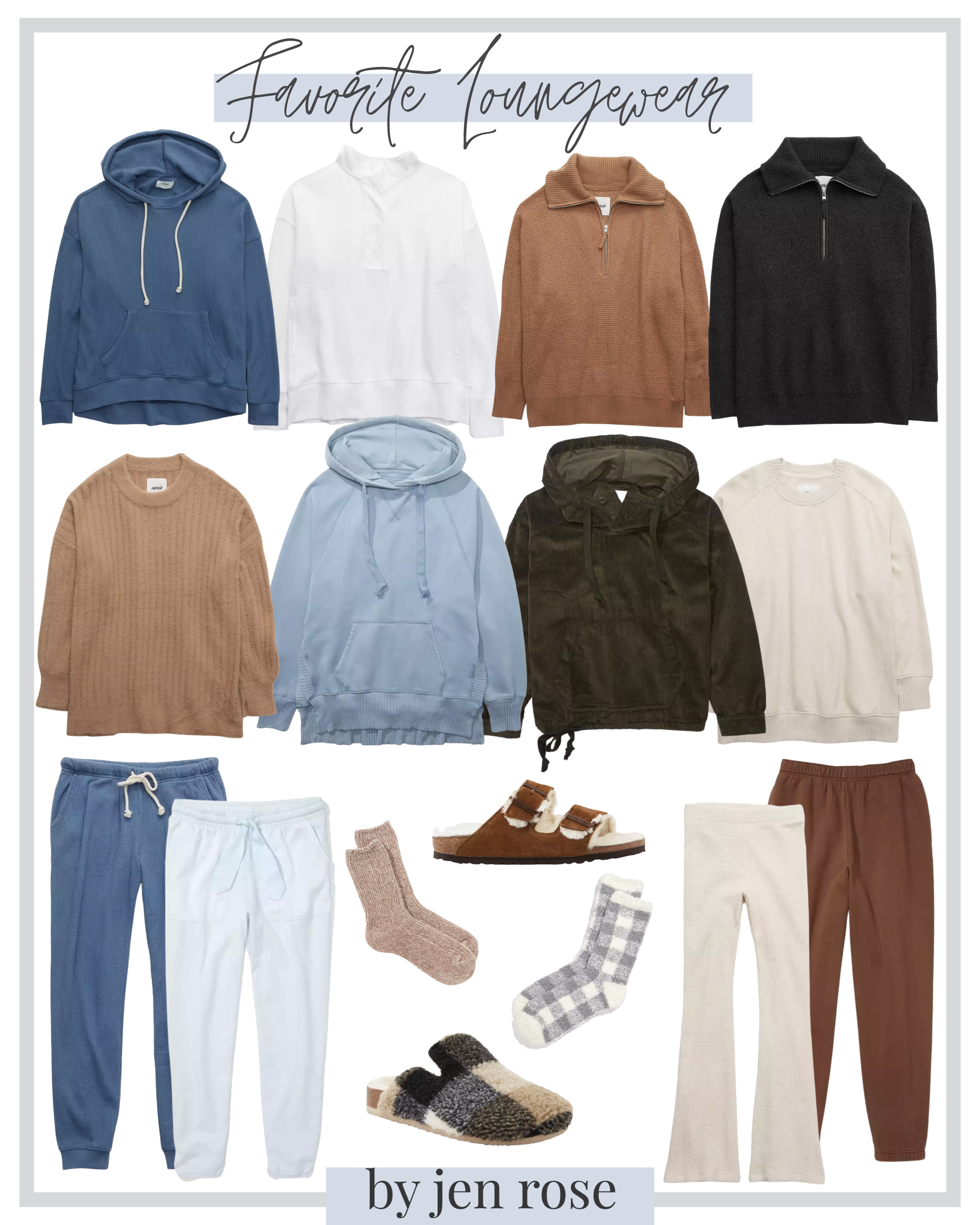 Favorite Pull-Overs
I have a collection of these, and my favorite place to shop for them is at American Eagle. Their clothes are always super soft, and they also have some markdowns right now I would check out. To start is this Down-To-Earth Crew Sweatshirt that is the perfect neutral to throw on with any outfit. If you are really into neutrals for the fall but want something a little more dressy, try this Buttercream Crew Sweater that is one of the softest things I've put on my body. I have seen quarter zips make their way back in style all over social media. They are the perfect mix of a classic look combined with loungewear. I especially love this CozyUp Waffle Quarter-Zip Sweater in black; perfect add-on for dressing up or down.
Loungewear Pants
These are my bread and butter; the luxury of wearing lounge pants all day is truly a dream come true. Starting off with my most comfortable favorites are these Aerie Waffle Joggers, one of my go-to pairs when I want a little color but not too much. These Low-Rise Fleece Boyfriend Joggers are similar, but a little more muted in colorway and have a more laid-back look. If you want something with a little more kick, these Waffle High Waisted Flare Pants are adorable and a great dupe for the Skims soft lounge pants. Last but not least are my all-time favorite Fleece Boyfriend Joggers in brown. I am obsessed with matching this color to all my neutral sweaters for fall.
Cozy Feet
Of course, we also need the perfect shoes and socks to complete our favorite lounge looks. I know the Birkenstock wave is famous right now, and I love the way they for every day. This is why I got these Plaid Faux Sherpa Clogs and have been loving them; the colors match perfectly with my fall wardrobe. However, if you like the traditional strap-style slide-on shoes, these Birkenstock Women's Arizona Shearling Sandals are perfect and have a super cozy fleece material on the inside. Every year I look forward to busting out my comfortable knit socks and had to snag these Fuzzy Plaid & Ribbed Chenille Crew Socks for those extra cold days.
Fall is the best time to stock up and rock your favorite loungewear. These are some of my favorite pieces to invest in because I know I will actually wear them a lot… But I have always been a sucker for a cute lazy outfit, and you don't have to wear heels to still look good! So if you loved any of these pieces, you can shop them here:

---