Spring break is just around the corner, and I know we are all excited to hit the beach, soak up the sun, and enjoy some much-needed time off. So, let's talk about the perfect spring break wardrobe! Whether you are planning for a fun trip in the next few weeks or plan on enjoying the spring weather, these looks are the perfect staples to keep in your wardrobe.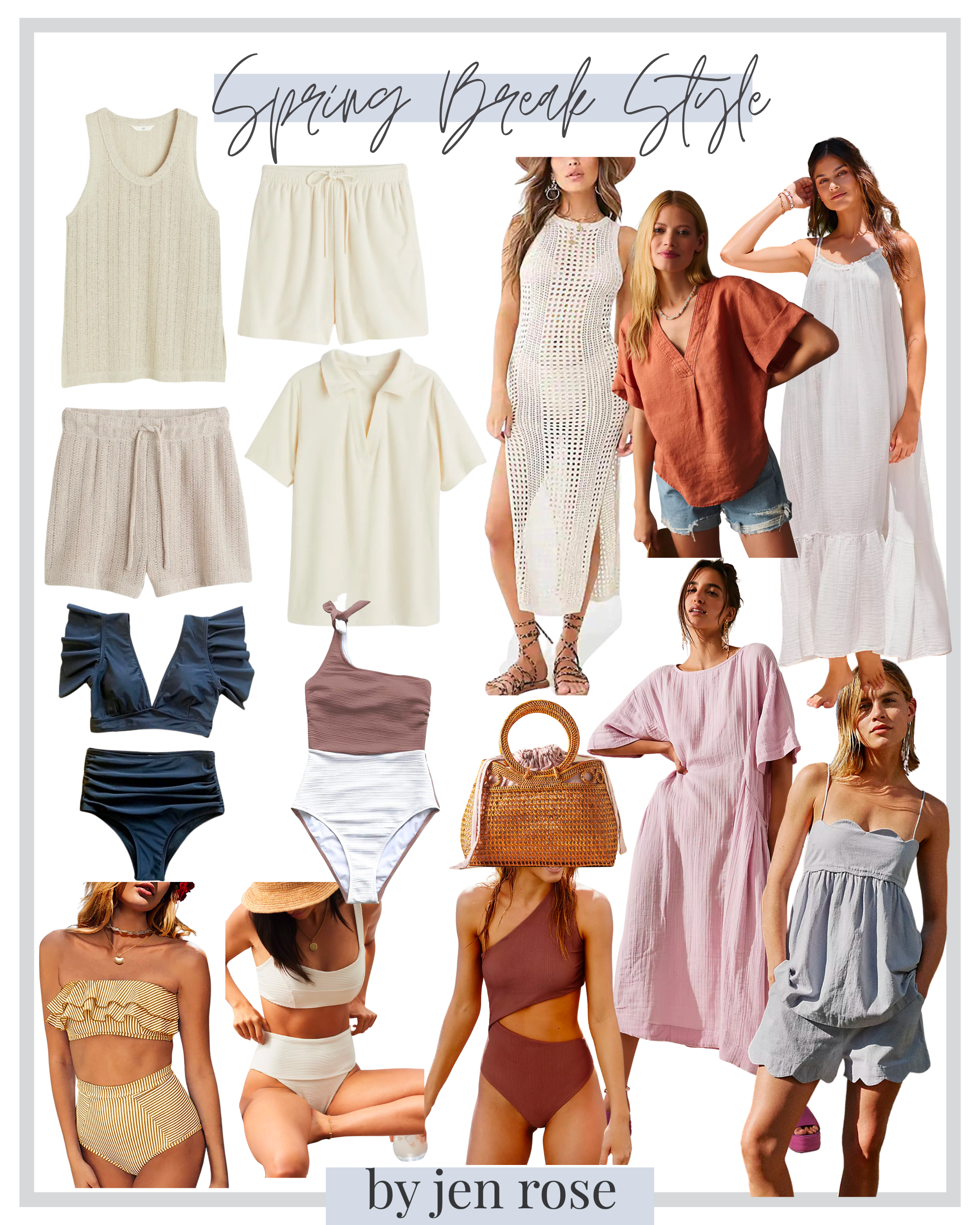 Spring Break Swim
First and foremost, let's start with swimwear. A cute and flattering swimsuit is a must-have for any spring break trip. I love Highwasted Bottoms because they feel more comfortable for the long days you'll be in the water. You can grab this White Bandue option for a matching top. I love this shape. Amazon has some adorable options this season, too, such as these adorable Ruffled and Golden Bikinis. Finally, if you prefer a one-piece, this Ribbed Cut Out Swimsuit is still super cute for spring break.
Spring Dresses
The key to finding dresses for spring is looking for flowy and light options that can be worn to the beach as a cover too. This Crochet Cover Up is a trendy staple that will match any swimsuit. Or, for something a little easier to wear, this Light Pink Midi Dress is my favorite- it can easily be styled throughout spring. An all-white moment would be perfect for somewhere tropical like this Gauze Dress.
Matching Wardrobe Staples
The easiest way to pack for a vacation is by bringing matching sets. I know we all struggle to find the perfect outfits or end up hating what we've brought once arrived at our destinations. This Sweet Scallop Set is perfect for casual and dinner looks while on break. If you are like me, you'll want something to lounge in after a long day like this Terry Polo Shirt & Shorts.
The key to a great spring break wardrobe is to keep it comfortable, stylish, and versatile. Pack a few key pieces that can be mixed and matched to create different outfits, and don't forget to have fun with your fashion choices. Tell me in the comment what your plans are for spring break, and for more spring fashion inspiration, check out my blog here.

---