Welcome back to the blog today; I have some refreshing spring accents for your living room. While I don't make significant changes every season to my decor, there are simple touches I like to incorporate. I love neutrals and minimalistic decor for spring- something light and refreshing. So here are my best finds for a spring living room with minimalistic accents to a new coffee table.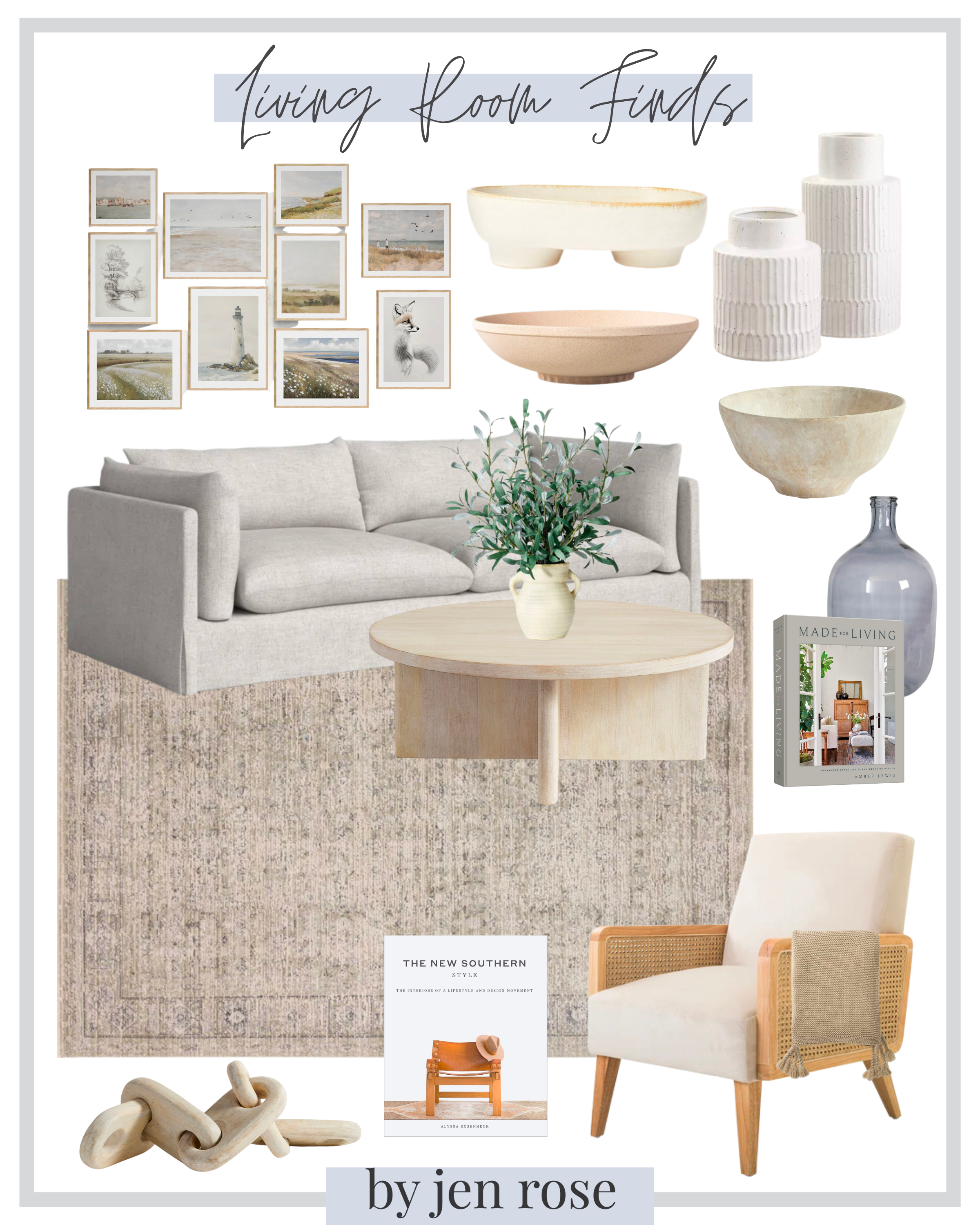 Living Room Furniture
You might not completely redo your furniture, but these are some favorite styles for a neutral living room base. I love this Slip Covered Sofa because it's a perfect size and will easily go with different styles of Accent Chairs. A Round Coffee Table always adds a designer feel to any room and eliminates sharp edges. My favorite accent is this Taupe / Dove Area Rug; the color combination is a dream and will highlight the rest of your decor beautifully.
Spring Refreshers
Switch out your existing artwork with some new pieces that reflect the season. Look for nature-inspired prints or bright and colorful abstract pieces that will add color to your walls, such as this Printable Gallery Wall. Bring the outdoors in with a beautiful bouquet of Greenry with a White Vase. I also love this Large Glass Vase for a more dramatic look on your console table or shelves.
Spring Table Decor
One of the easiest spots to freshen up is your coffee table. Start by decluttering your current setup and removing items that are out of season/don't have use. These Made for Living: Collected Interiors and The New Southern Style: The Interiors of a Lifestyle are the perfect coffee table books for year-round display. Also, consider adding a Catchall Bowl for all your miscellaneous needs. Last but not least, add this  Wooden Chain for a finished look.
With just a few simple updates, you can transform your space into a bright and airy oasis perfect for relaxing and entertaining. Spring brings a new light after the dark tones of winter; these neutrals and hints of green will give your home a light and airy refresh. Tell me some of your favorite ways to incorporate spring into your home in the comments. You can shop everything here:

---