With the Holidays coming up, I thought I'd share some of my kids favorite things to have when we travel & I also wanted to do a holiday giveaway for the moms! Thanks for following along and being here!
I traveled with our kids, on my own, & made sure we were completely stocked up to make mom's life a little easier. Staying comfy & cozy in my familiar routine is something I'm really good at. I've fallen back on the excuse of my husband's work schedule, sports or school.
When I realized our fall break seemed longer than usual this year, I spontaneously booked plane tickets for the kids & I to travel to Austin to be with family.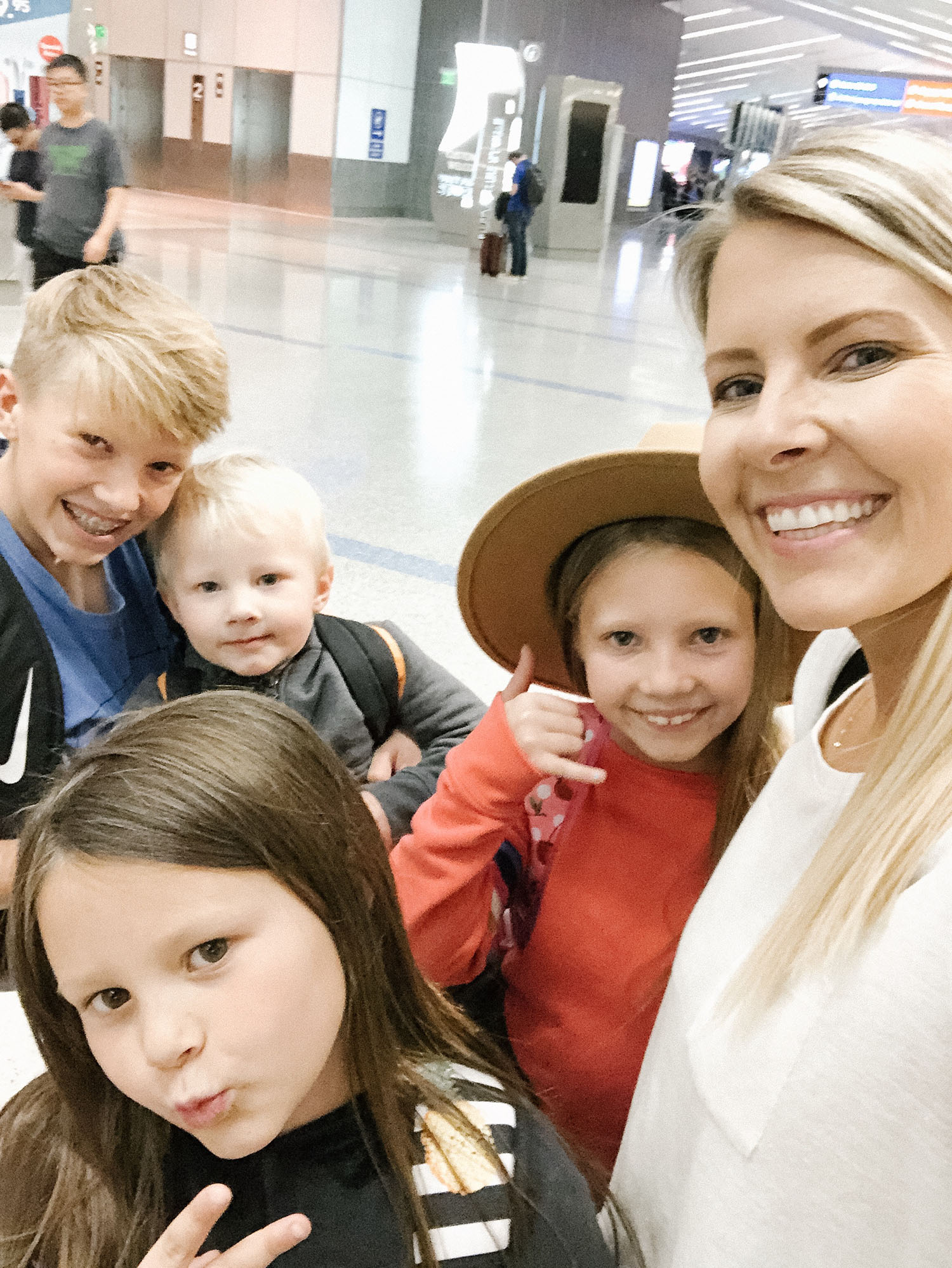 Somehow we pulled the trip off. We drove a combined 12 hours to take advantage of better plane tickets at an airport farther away, flew 6 hours, rode an Uber from the airport to our hotel at 2 am, explored the city of Austin, went to Waco, enjoyed the concierge lounge at the hotel, swam in the rooftop pool. We went from churros to BBQ to donuts to burgers trying all the amazing food Austin has to offer. I will do a blog post round up of our itinerary & all the delicious places we ate soon!
My anxious heart pulled on me every way it could once the tickets were booked, but isn't that what staying comfortable does to us also? My hard is not your hard. This might sound silly to some, but this trip to me was empowering. I feel independent enough to get done the day to day things, but traveling to a new place with 4 kids is something I haven't thought to do without my hubs before. I couldn't believe I was strong enough to do it & that we did do it.
We don't grow & we don't experience when we stay in our comfort zone. Here's to finding more adventures where we can!
I'm sure a lot of you are planning to travel during the Holidays so I'm including some essentials for a complete children's travel activity pack that I bought to keep our kids entertained. These would all be super fun gifts as well! On these lists are things I bought for our  kids & can be used for boys or girls. I just separated them into how our kids used them.
Our boys are 12 & 2 so some handheld electronics & books were awesome for the oldest while everything mess free was great for the youngest. I now consider the Boogie Board & the dog set to be must haves. Everyone loved their children's travel activity pack, but especially our littlest. A friend had the Boogie Board & let Ty use it & I thought it had to be much more than it was. When she told me the price, I immediately grabbed it off Amazon. He loves cuddling the dogs & they talk so we play hide and seek with them. We have the mommy & 4 babies & I'm not kidding when I say, this is the perfect toy for a 2 year old.
Keeps them completely entertained while you are getting stuff done!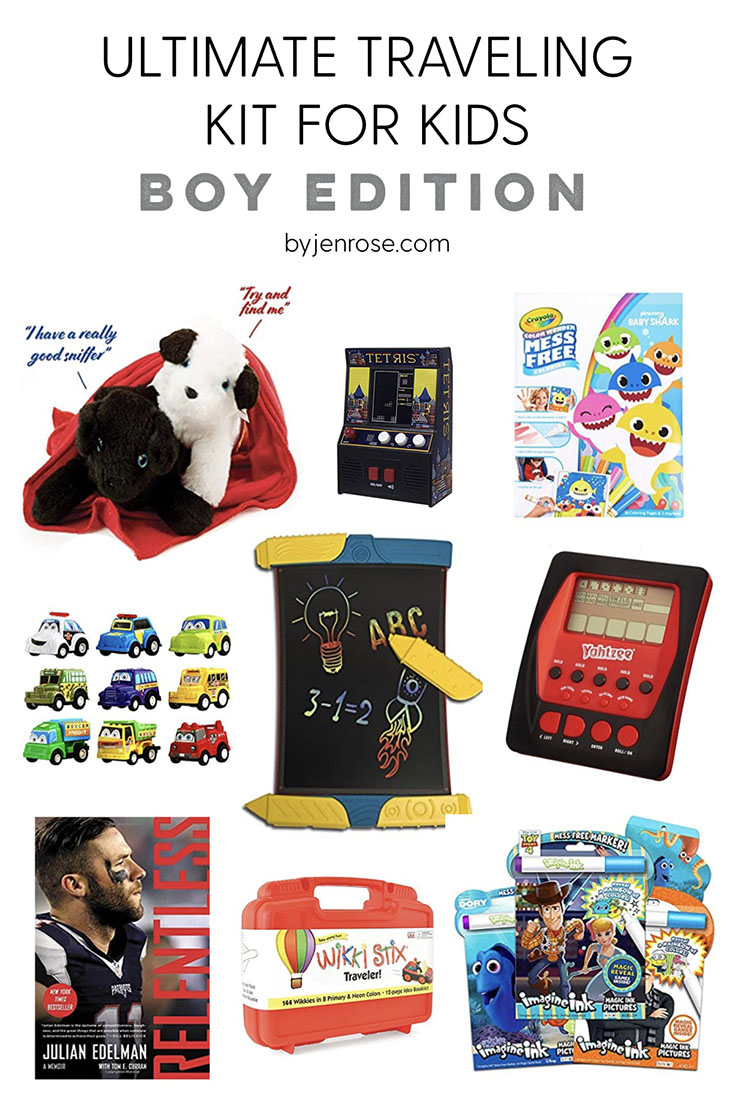 SHOP THESE CHILDREN'S TRAVEL ACTIVITY PACK ESSENTIALS FOR BOYS:

Our girls are creatives. They love coloring, painting and writing stories. They both freak out over getting new markers and the more hues of a color, the better! The Wikki Stix were a huge hit. The girls grabbed the traveler set from Ty's backpack so they could have more to play with & they still are building homes, people & butterflies weeks later. Everything unicorn is completely on trend right now, so the girls have loved the unicorn hide & seek set. They are so darling & have the cutest little voices! I have loved this 2 sided marker set! Having a handful of these goodies while we travel will be so helpful from now on.
SHOP THESE CHILDREN'S TRAVEL ACTIVITY PACK ESSENTIALS FOR GIRLS:

We're making a list and checking it twice!
I've teamed up with an amazing group of bloggers
to give YOU a chance to win:
a $1,000 Amazon or VISA Gift Card,
just in time to complete your holiday wish list!
Simply enter below by completing the rafflecopter. You'll receive one entry per completion. This giveaway is open to the U.S. and Canada only and runs until 12/11.
Winner will be announced here. Good Luck!
Void where prohibited. By entering the giveaway you acknowledge that you are agreeing to complete each task,which involves following, liking and subscribing to newsletter's.
This children's travel activity pack post may contain affiliate links. This means if you click on the link and purchase the item, I will receive an affiliate commission at no extra cost to you. All opinions remain my own.
---