The kitchen is almost always the heart of a home, where we spend most of our time. So I am always looking for easy cooking hacks or gadgets to make my life easier when preparing meals or just spending time with family. There is never a time to stop updating your kitchen; it should reflect your ever-changing cooking style. So let's take a lot at some of my kitchen must-haves!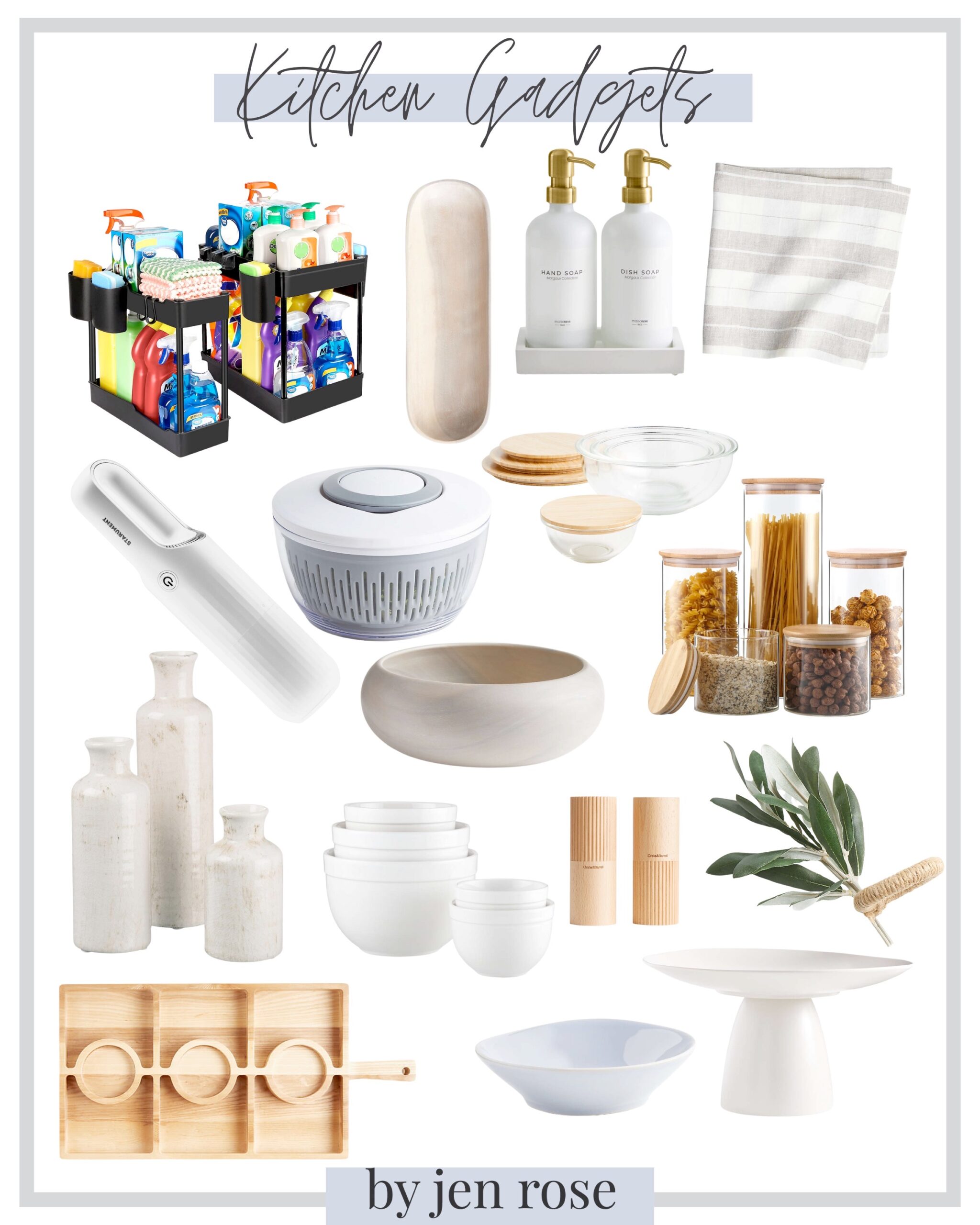 Kitchen Decor
When deciding how to decorate your kitchen, keep it light and the decor simple. This is why I love this Craft Linen Stoneware Cake Pedestal; it's clean and perfect for displaying tasty weekly treats. Next are these gorgeous Sullivans Ceramic Vase Set- 3 Small Vases, which are great for sticking between intersecting countertops' corners. I think it's safe to say we all have a miscellaneous drawer or bowl in our kitchen that is filled with who knows what. To make it a little more aesthetically appealing, I like this Tondo 14″ White-Washed Bowl because of its deep edges that hide the insides. Now every kitchen needs a centerpiece, and this Carson Small Sectioned Ash Wood Serving Board is stunning. I love all the different compartments. If you like something smaller, I suggest this Tondo White Washed Oval Pltr that has a timeless look. 
Kitchen Storage 
Whether your kitchen is big or small, storage and organization are pretty crucial in this area of the home. Nothing is more frustrating when you can't find what you're looking for when cooking. These Glass Storage Jars [Set of 5] are perfect for dry foods and cooking powders and remind me of Khloe Kardashian's kitchen. I also am not a fan of an ungodly amount of mismatched Tupperware containers, and I think it's better said to have a nice set of containers that matches the rest of the kitchen. For example, these Glass Mixing Bowls with Bamboo Lids, Set of 4 are perfect and have every size you need. I love these Aspen Rimmed Nesting Mixing Bowl 5-Piece Set for your everyday bowls. These are great for cooking and serving! Last is probably the biggest game changer your kitchen upgrade needs; these 2 Pack Under Sink Organizers have transformed beneath my kitchen sink. 
Kitchen Essentials 
I want to show you some of the products that have made my life substantially easier in the kitchen. First is this Chef'N Salad Spinner and Chopper, a game changer for chopping and cleaning food. Something that makes for easy clean-up after you've made a meal is this Starument Portable Hand Vacuum Cleaner. Now, for some good matching essentials is this MaisoNovo Glass Soap Dispenser with Pump and Concrete Tray. This is great for tidying up the sink area to look more designer and as beautiful as the rest of the kitchen. A good salt and pepper shaker is almost needed on your kitchen countertop since we use it so much. These Hanno Fluted Salt and Pepper Shakers have a simple design but look exceptional when left out. 
I hope you found something that might be useful in your kitchen! Let me know in the comments some of your favorite kitchen essentials! You can shop any of these items here:

---