We just finished shopping for the holidays, but Valentine's Day is right around the corner. Are you looking for the perfect gift for the special man in your life? I know how hard it can be to find the right meaningful gifts for him. So whether you're shopping for your spouse, brother, dad, or son, I've got you covered. Here are some of my favorite gift ideas for him, from stylish accessories to heartfelt keepsakes!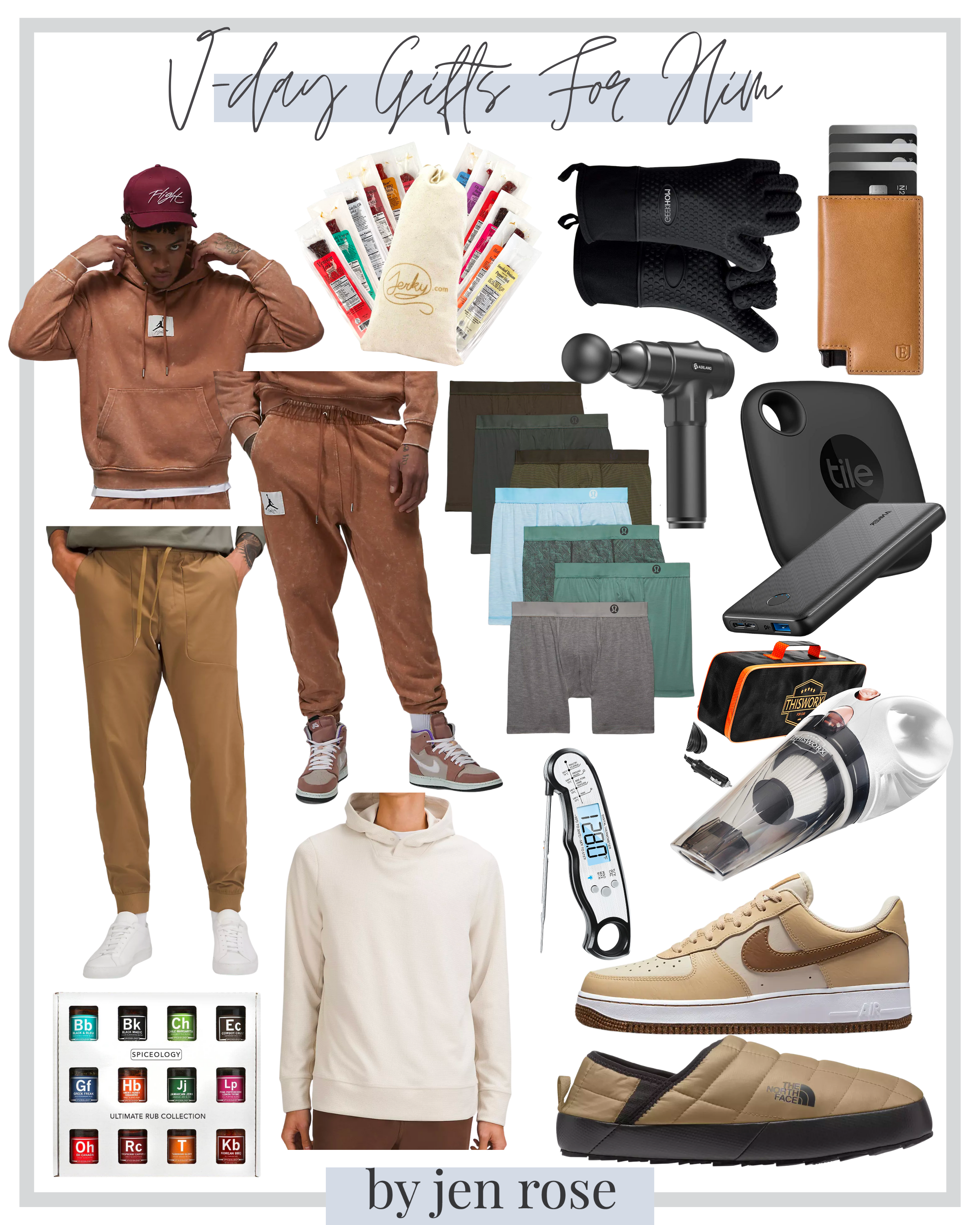 Stylish Gifts
For the fashion-forward men that like to look good but still be comfortable, this matching Nike Track Suit is the perfect gift. He'll also appreciate some fresh new sneakers, a neutral options such as these Air Forces are a safe bet that will match all his neutrals. You can never go wrong with a good pair of house shoes like these Northface Slippers for ultimate lounging.
Gifts For The Grillers
Gifts for the griller benefit everyone in the long run. There are tons of options to make him feel appreciated; just take the time to find something he'll use and love. For example, this Digital Thermometer perfectly checks the temperature of the food without having to check the grill constantly. Get your man to experiment with different seasonings with this set of Gourmet Spices; so many yummy flavors to try. Speaking of trying new flavors, for a little something to snack on during those bbq days, I would grab this Exotic Jerkey Basket. Simple but meaningful gift idea.
Essentials For Him
You can't go wrong with some of the basics for Valentine's day. Grabbing some underwear for this special day is a gift classic for him. All the men in my life love these lululemon Boxers; they are super comfortable and easy to move around in. For the tech-savvy men who can't seem to keep track of their keys or keep their phones charged, I have a gift for them too. This Tile Keychain and Portable Charger will definitely be put to good use. If that special guy in your life hasn't already purchased a Massage Gun, this is the perfect opportunity to make his day special. This is a must-have I recommend for anyone!
I know that men especially can be hard to shop for, especially on this holiday. But no matter what you get him, your thoughtful and meaningful gift will surely make him feel appreciated this Valentine's Day! Tell me in the comments if you have any Valentine's Day Plans with your significant other or family this year. For more Valentine's Day inspiration, check out my blog here, and don't forget to shop everything below!

---