I have been doing a lot of online fall shopping and scouting for deals for my kids since they are growing like crazy. Walmart has some fantastic fall fashion out right now for boys and girls, and they have all the current trends for half the price. So I'm sharing some of my favorite picks that are too cute to pass up!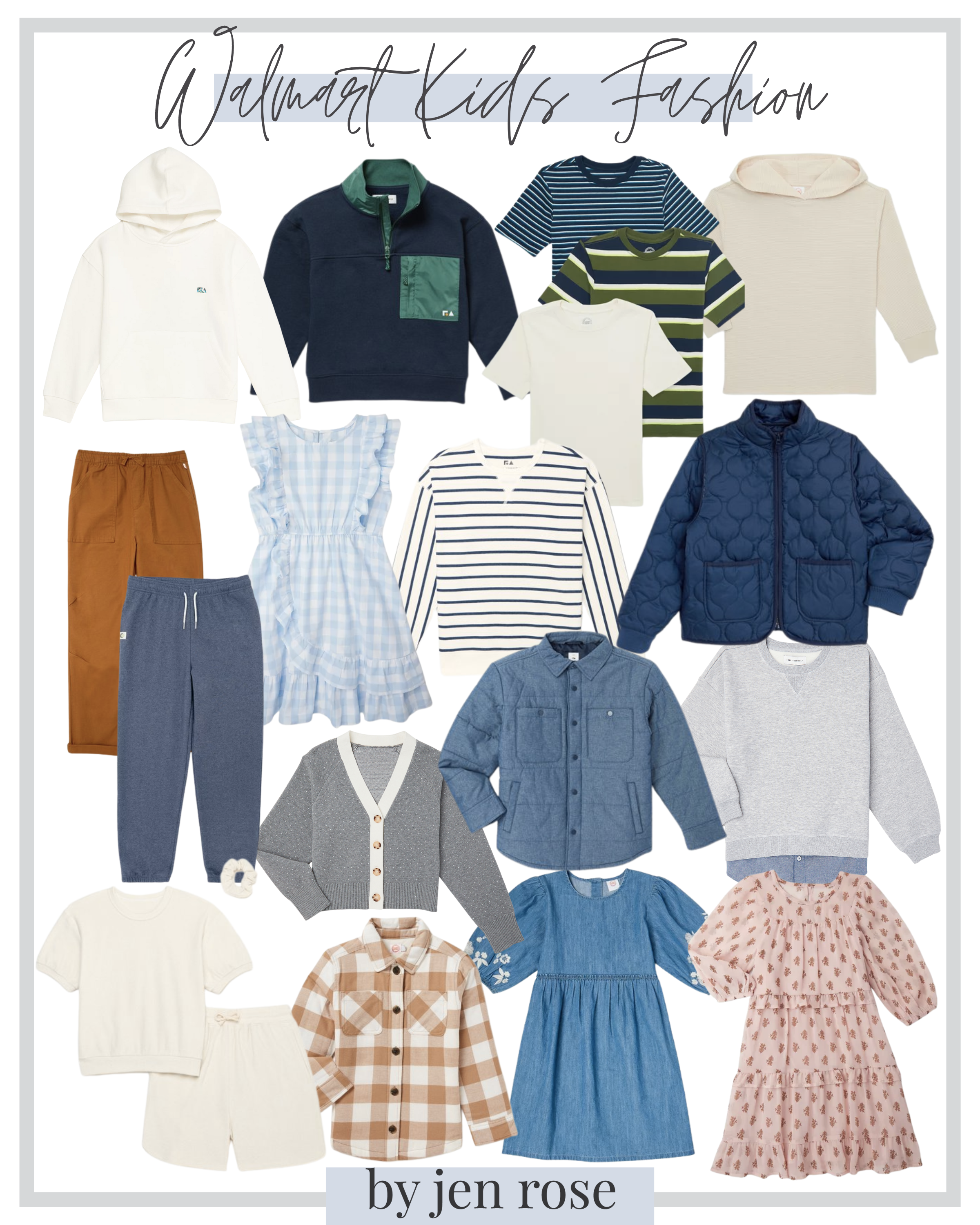 Girls Dresses
If you are like my family, you are preparing for family pictures. I love taking photos this year because the color schemes are unbeatable. This Short Sleeve Chiffon Peasant Dress gives all the fall vibes. Another great dress option is this Balloon Sleeve Dress, the floral details on the sleeves are just adorable, and denim is super in right now. Finally, this plaid Ruffle Dress is just an adorable dress that is perfect for picture day at school or some summertime fun.
Boys Fashion Picks
My boys at this age don't care about what they wear, so I try to buy them a lot of neutrals, so they don't look too crazy before school. For starters, this Texture Hoodie is perfect for everyday wear, and it's not heavy, so it can be worn before the temperatures start to drop. However, when it gets chilly outside, layer with this Boys Puffer Shirt Jacket. I love these Twill Fatigue Pants in this super autumn burnt orange color. Finally, these Short Sleeve Solid and Striped Tee 3 Pack are a great deal for some simple shirts that match anything and everything in my boys' closets.
Favorite Fashion Picks
These are just my favorite ones for boys and girls out of the damage I have done online shopping. Starting with this adorable Slouchy Terrycloth Cropped Tee and Shorts, this would be super fun to do a mom & daughter matching outfit with. Next, I saw this Lightweight Quilted Jacket, which immediately reminded me of the Free People jackets; I am so jealous that this is a kids' jacket! It is jacket season, of course, and this Mock Neck Quarter Zip has the cutest color combination. Finally, this last favorite I found in the girls' section, but this Flannel Shirt Jacket is pretty gender-neutral, and I think it's a cute fall staple either way.
I don't want to be dramatic, but I would run to Walmart to grab these clothes for a reasonable price. I was pleasantly surprised by how many trends they had in stock. I recommend shopping here for your kiddo's fall staples or getting some early Christmas shopping in. If you loved any of the pieces I mentioned, you can shop them here:

---