I shared our little girl's 1st birthday party a couple of days ago.
It only took me 4 months to post, but better late than never right?!
I had grand intentions of taking family pictures to use for Christmas cards until I found out it was going to be 109 degrees that day.
Hence, I got out of the shower and didn't even blow dry my hair because I knew I'd be going swimming at some point.
Thank you Lora for being such an amazing photographer!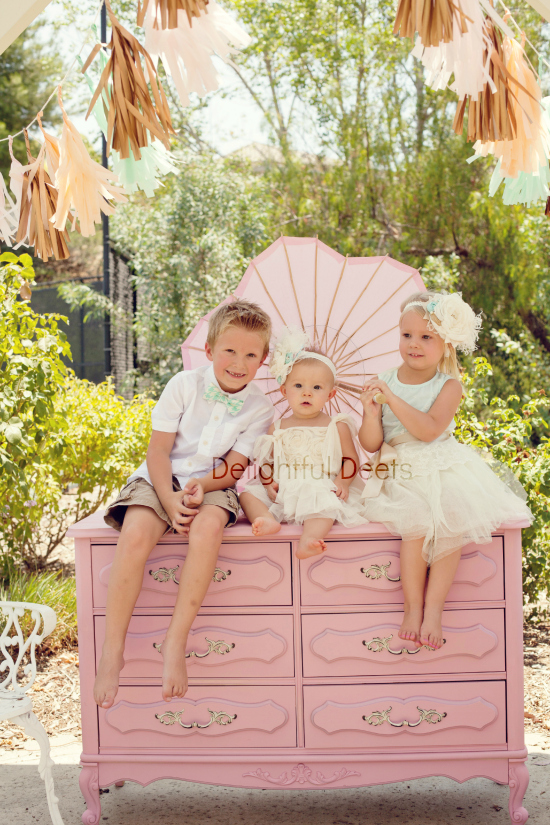 This was the best we could get with our 3 littles and I love it. It shows our son's personality, cheesing it up so he can hurry and swim with friends-mostly obedient, our baby girl's personality-very serious and just taking it all in, and our toddler's personality-diva, in her own world and says she's looking at the camera when obviously she isn't.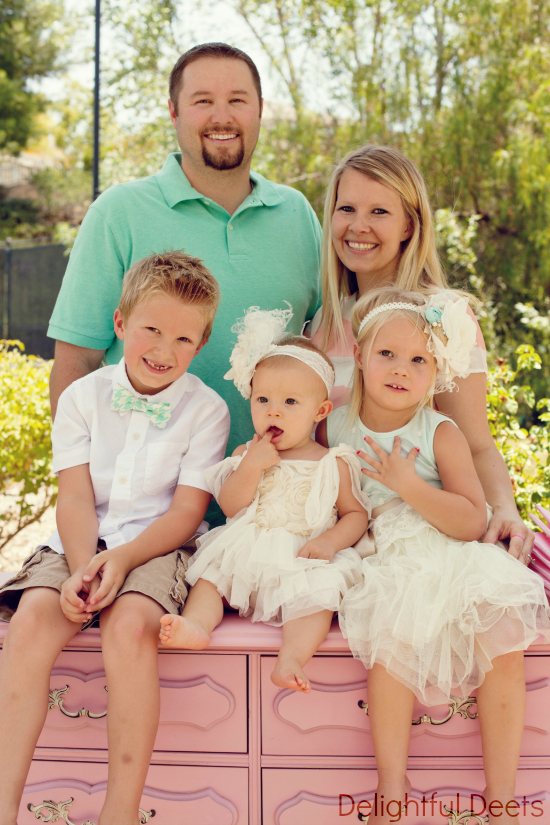 On the hubs – Grabbed him a shirt from Target so he could match
On the boy – Shirt & Shorts Old Navy, bowtie – Kelsey Bang
On the girls – decked out in Ruby Blue
I love etsy shops that I buy from, obviously because I think their shop is awesome or their pictures are great, but when I got the package from Ruby Blue I seriously started tearing up. I only messaged Trisha once with what I wanted and these were PERFECT. Exactly what I would have attempted to make and then failed at. She is so sweet, quick to respond, and fabulous at what she does. How could someone be that on target with my style from 1 message? She's a genius at it, that's how.
Follow her on Instagram for darling pictures and awesome giveaways.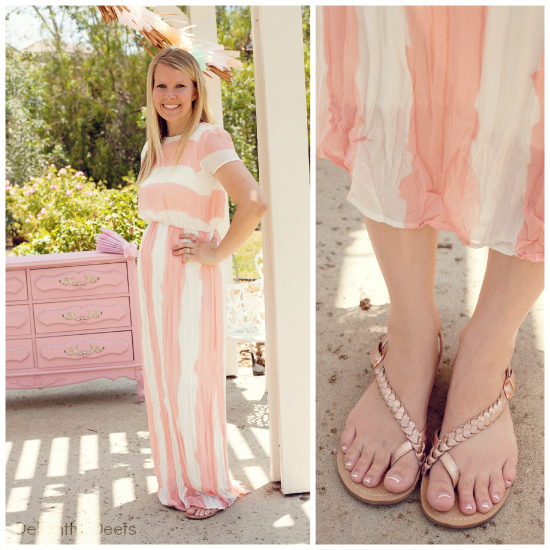 On me: Dress – Shop Ruche (couldn't find this exact dress, but they have a ton of cute ones right now)
Rose Gold Sandals – Target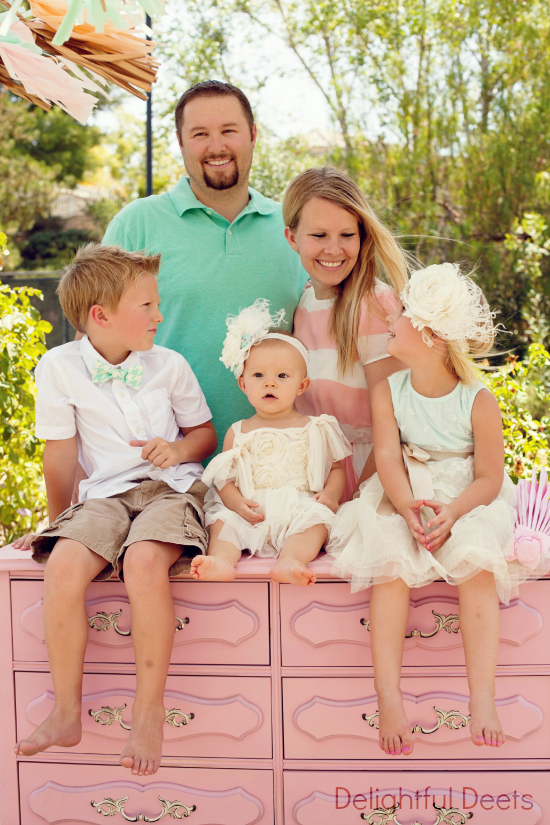 You know those candid family pictures where you say, "Ok, everyone laugh and look at each other?" It's 50-50 with my family. While my daughter laughs at me confused, my son pouts because he's not swimming, my husband halfway smiles to appease me and serious baby doesn't get it yet. Ding ding ding, nailed it family! It doesn't get more real than this.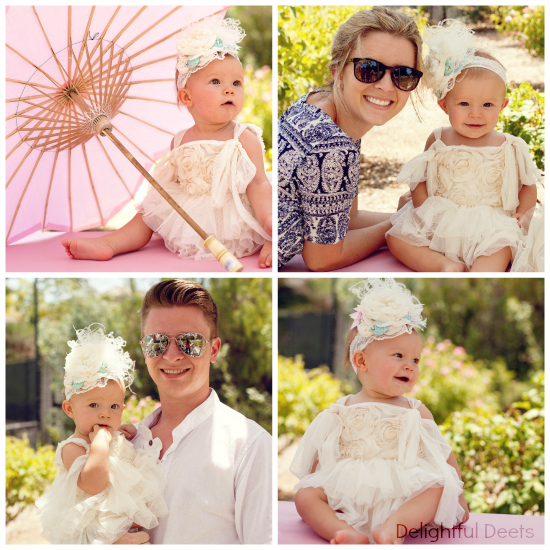 We had a ton of family in town because my brother was getting ready to leave on his mission so here is my baby sister and 1 of my baby brother's with her.
He adores her and it melts my heart. Every letter he writes he asks about her first. He was one of the first people at the hospital when she was born and always asked to hold her. He loves the older 2 just as much I'm sure, he wasn't around them when they were babies so I think he enjoyed that stage with her. He also is the baby of our family of 9 so it was a whole new thing for him.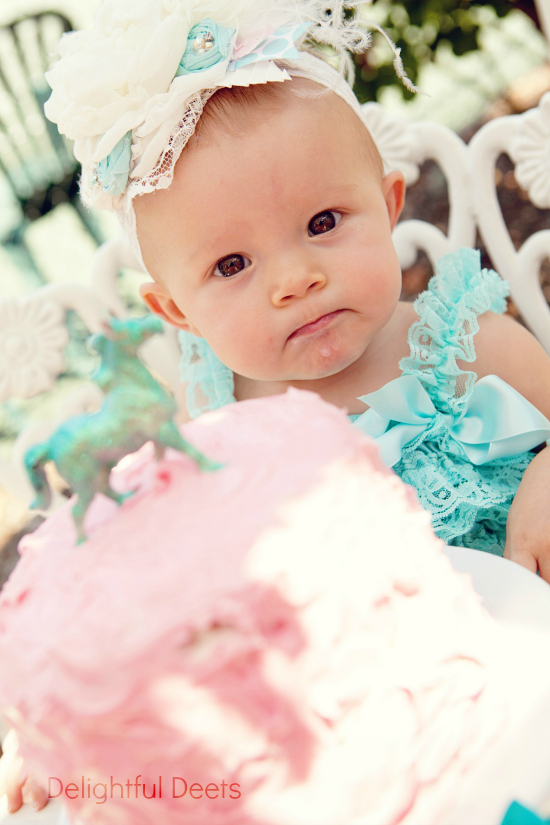 I could just die over this sweet face! She was so excited she started drooling over it 🙂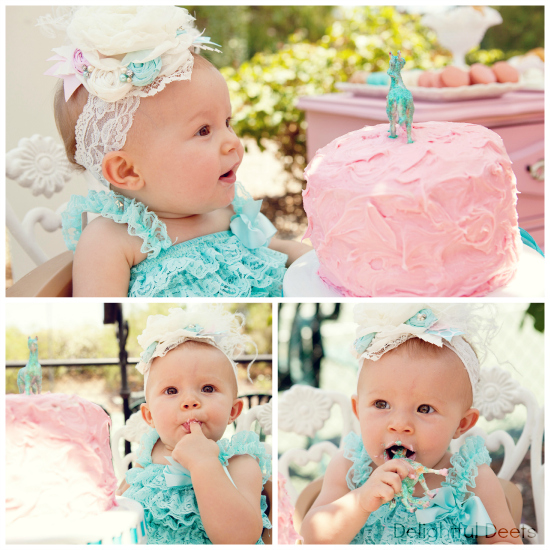 I put edible glitter on the horse knowing full well she'd want to play with it and then eat it.
That's what 1 year old's do!
Happy Wednesday!
Linking up here:
xo,
---