I have recently gone a little crazy on Amazon and thought I would share some of my favorites. I ordered some items for my kids that would make great Christmas gifts or stocking stuffers. I also found some home items that I've genuinely been enjoying. Honestly, I'm a fan of anything on Amazon that makes life a little easier. Let's get started!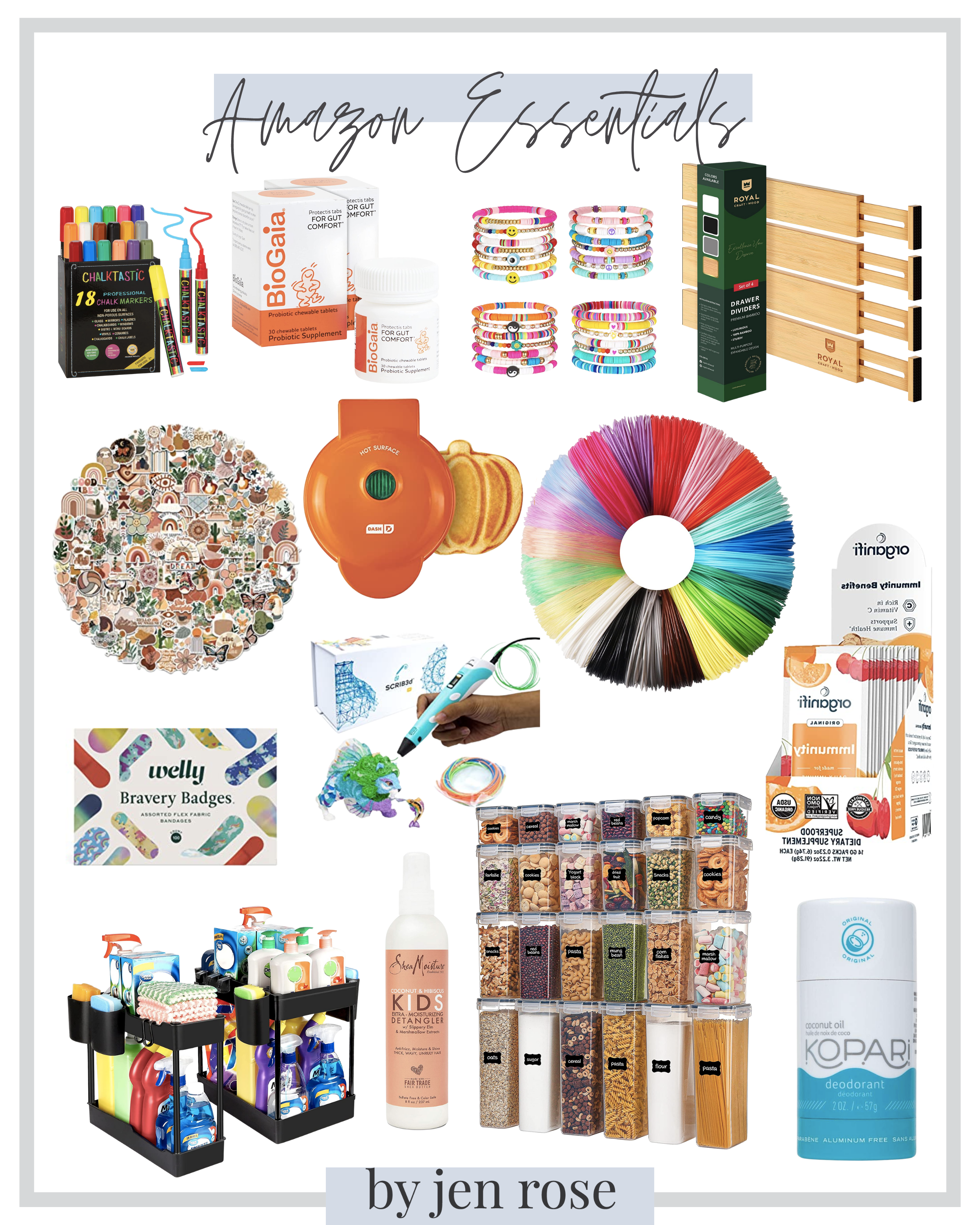 For the Kids
I have been lucking out with some fabulous finds for the kids to enjoy. First, I bought this 3D Printing Pen with Display for all my kids to enjoy, and they are obsessed! Probably one of the coolest toys I've seen in a while; honestly, I like to sneak it and have a turn. Another item they have been enjoying is these Chalk Markers that work on chalkboards, ceramics, glass, whiteboards, etc… They can pretty much draw where their heart desires, and they are washable! Lastly, I bought my daughters this pack of Heishi Surfer Bracelets, and they will not take them off. If you have fashionistas as daughters, these are great.
Health & Beauty Finds
With back to school and the seasons changing, it's that time of the year when everyone is getting sick. I got these Organifi Immunity powders for the family to ensure everyone gets their vitamins. They are super easy to add to water and have a tasty orange flavor. If your kiddos get sick this season, try these BioGaia Protectis Chewable Tablets to fight those stomach pains. If you have tender-headed kiddos like me, this Sheamoisture Kids Extra Moisturizing Detangler will be your best friend. This next item is for mom; this Kopari Aluminum-Free Deodorant has been a new try and has quickly become my favorite deodorant.
Amazon Home Finds
These items have been helping me around the home, and I'm also just a sucker for organization. I have been desperately looking for drawer dividers that adjust to any shape, and I found these Adjustable Bamboo Drawer Dividers. My drawers have literally been transformed without taking up too much space. Next are these 2 Pack Under Sink Organizers that have been amazing for organizing all my cleaning supplies. I will probably be ordering more of these! Another great organizer I found are these Airtight Food Storage Containers with Lids that I have been slowly but surely transferring all our snacks too. The last item isn't for organizing but a cute fall item. This Dash Mini Waffle Maker has been used several times to make some cute pumpkin waffles for my kids in the mornings.
I hope you found some inspiration for your next Amazon order! I love shopping for my kids on Amazon because they always have the coolest stuff. I know prime day is coming up, too, so be on the lookout for all the deals. If you love any of these items and want to try them out, you shop all of them here:

---