I have been enjoying the fabulous fall trends the past few months, but I am ready for winter to set in. The best part of switching from fall to winter outfits, most pieces work for both, with the addition of a few heavier coats. I have some adorable fashion picks from Abercrombie that are perfect if you're a fan of the popular neutral look aesthetic. These pieces are a staple in anyone's colder-weather wardrobe.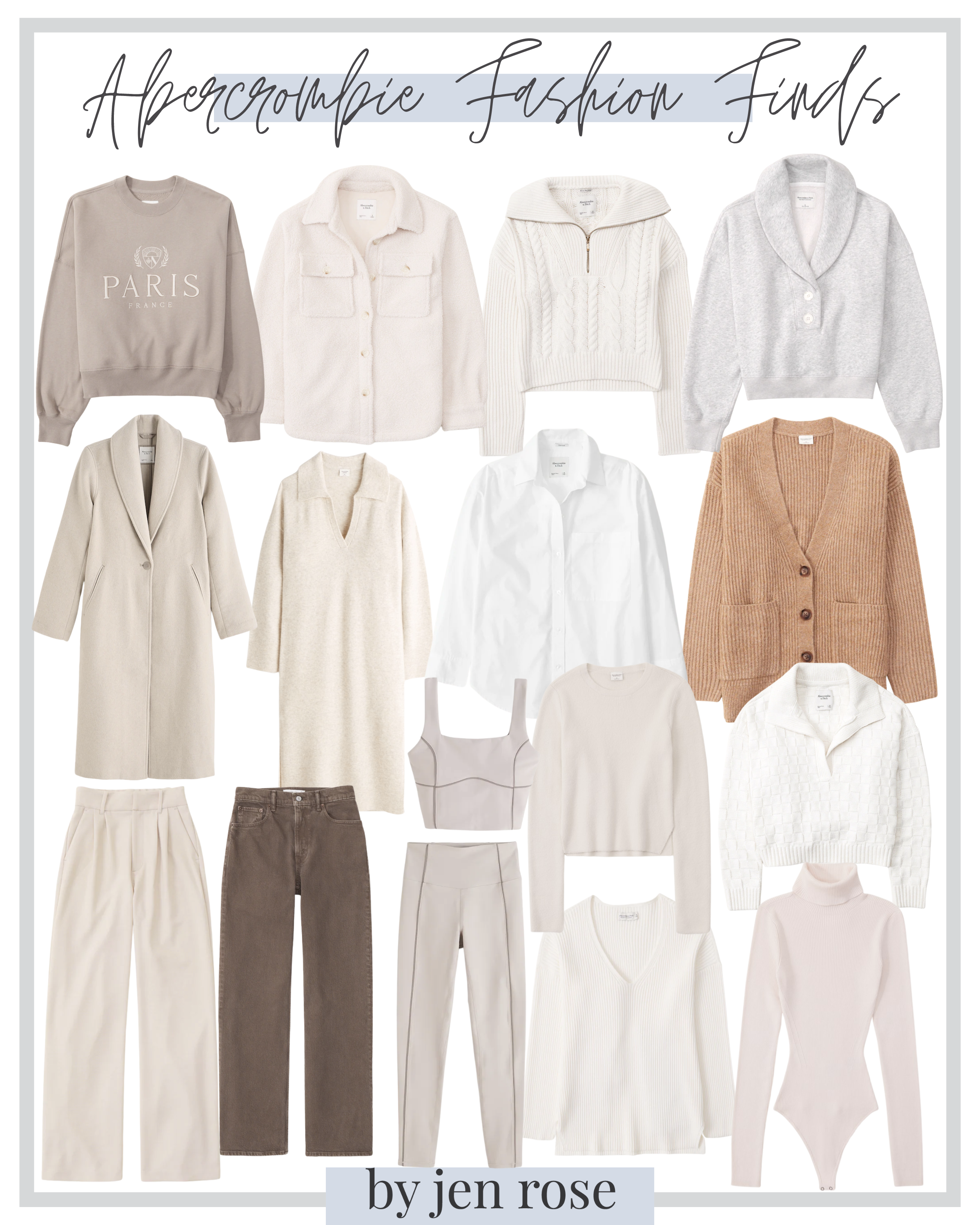 Staple Coats & Sweaters
You might have some light jackets for the fall, and I have some perfect coats to step up your style for the colder season. For starters, you can throw this adorable Wool-Blend Double Cloth Blanket Coat over any outfit. Next, the popular shackets that are everywhere right now are perfect for building the perfect casual outfit, and I'm obsessed with this Sherpa Shirt Jacket. Finally, this Fluffy Oversized Cardigan is great for pairing leggings or oversized jeans for your simple everyday looks.
Winter Tops
The perfect pullovers are essential during this time of the year. They work for layering on top of other pieces or just by themselves. I have been super into quarter zips this year because they are chic and comfortable, like this Merino Wool-Blend Cable Half-Zip. The same thing with this Shawl Collar Henley Sweatshirt, I love the look, and the buttons are just adorable. This Sunday Crew is just what you need for the more casual looks where you just want to be comfortable. Last but not least is this staple Oversized Poplin Button-Up Shirt; this can level up any outfit for an effortless look.
Staple Pants for Fall to Winter
I have a hard time with keeping staple pants in my wardrobe that I can interchange between seasons. So I have been hunting for the best options, and these High Rise 90s Relaxed Jeans in dark brown are the cutest pants. Another favorite that is perfect for workwear or just a casual, laid-back look is these Tailored Wide-Leg Pants, which are so flattering. Lastly, which is an everyday staple outfit for any time of the year, is this YPB 7/8-Length Leggings. To make it a matching set, this YPB Squareneck Slim Tank is just as cute.
I might need to slow down on all the shopping for myself because I need to start gift shopping for my family. But I love finding picks to share, and if you want to see some previous fall outfit inspiration, you can check out my blog here. These are my favorite staple items for the fall-to-winter transition looks, and you can shop them here:

---