It is the shopping season! So whether you are rounding up gifts for everyone on your list or doing some little gifts on the side for yourself, everyone is shopping right now, including myself. Abercrombie is currently having its 30% off winter sale, but today you can save an extra 25% with code AFLTK. I love shopping at Abercombie for good winter basics for my boys and me. Today I have some of my favorite Abercombie finds for men & women.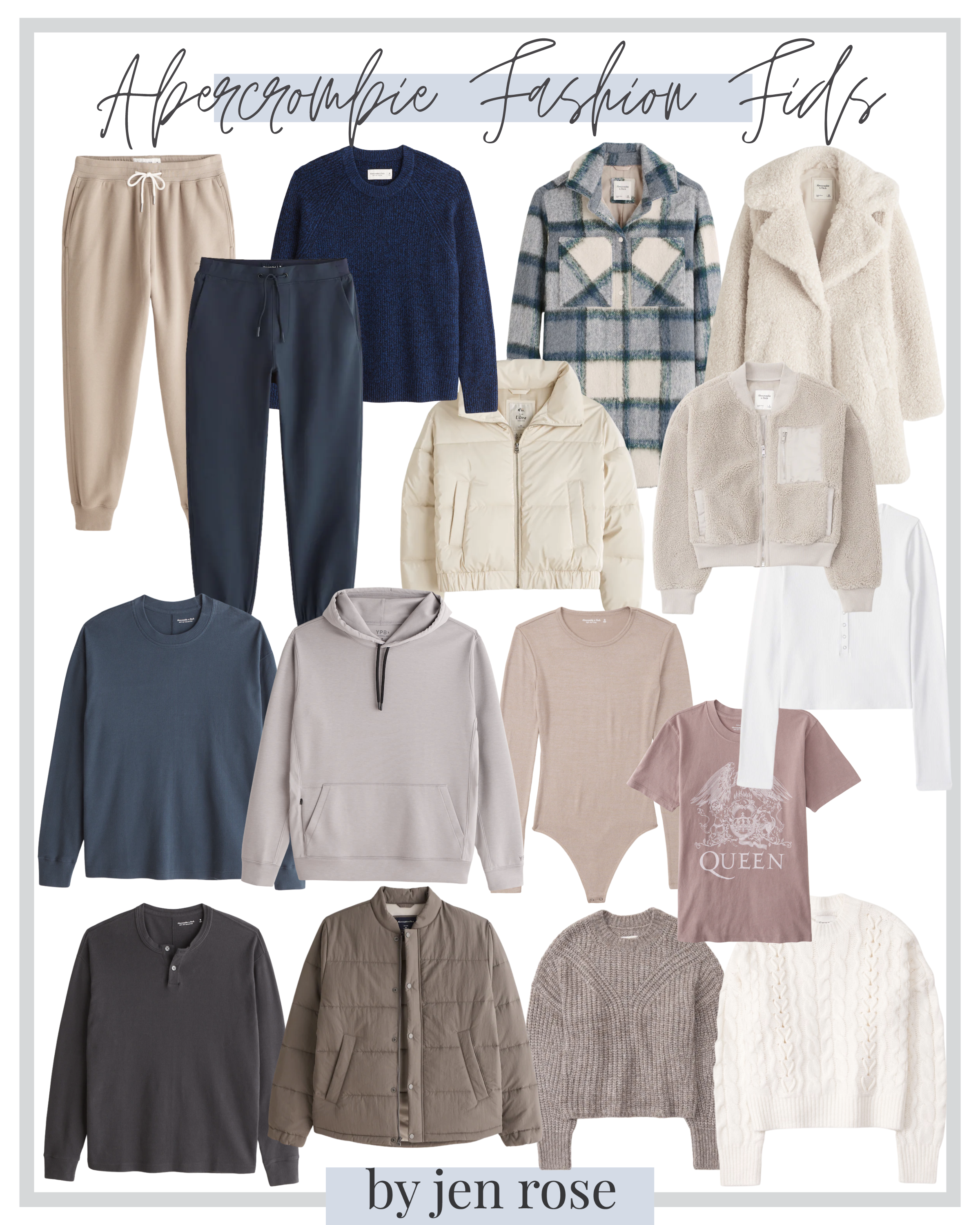 Abercombie Men's Picks
I often find it hard to shop for the men in my life, especially in fashion. This is why it never hurts to stick to the basics like this Thermal Long-Sleeve Tee. I want to think of layers when shopping for men, and this Textured Crew Sweater is perfect or layered under a winter coat. The ideal coat is this Lightweight Everyday Jacket that matches all his outfits. Last but not least, it is cozy season, and any man would love these Traveler Joggers for casual looks.
Women's Fashion Picks
I have to say that I'm a much bigger fan of winter fashion pieces than spring. Who isn't a sucker for a cable knit sweater like this Fluffy Cable Crew Sweater? I have picked two of my favorite winter coats for the season and could not be more obsessed. For my colorful outfits this season, I adore this Long-Length Wool-Blend Shirt Jacket. For my dressed-up outfits this season, including New Year's, I would wear this Teddy Mid Coat to keep me warm and fashionable. Another basic for the season is this Long-Sleeve Cozy Crew Bodysuit that is perfect for building outfits.
My Favorite Abercrombie Picks
Now time for the best of the best picks this season. Starting with the basics for men, a nice pair of sweats for the holidays is always appreciated. Next, I would snag these Small-Scale Logo Joggers and YPB neoKNIT Warm Up Hoodie. This is perfect for anyone's taste; a nice set of neutral loungewear goes a long way. Lastly, I love this Ultra Mini Puffer with leggings and cozy slippers. You can dress it up with a nice sweater and pair wide-leg jeans.
That wraps up all of my Abercrombie for the season. I can't wait to see what styles drop at the New Year. This is one of my favorite places to shop for winter basics because they always have good quality styles that last forever. For some more winter fashion favorites, check out my blog here. You can shop all of these pieces here:

---