The countdown to Christmas has begun, which means joy is in the air. I have slowly been getting my ducks in a row this season and gathering the essentials. So whether you are preparing for a holiday party or need some Christmas spirit around your home, I've got just what you need. Check out one of my latest blog posts for some Christmas decor finds.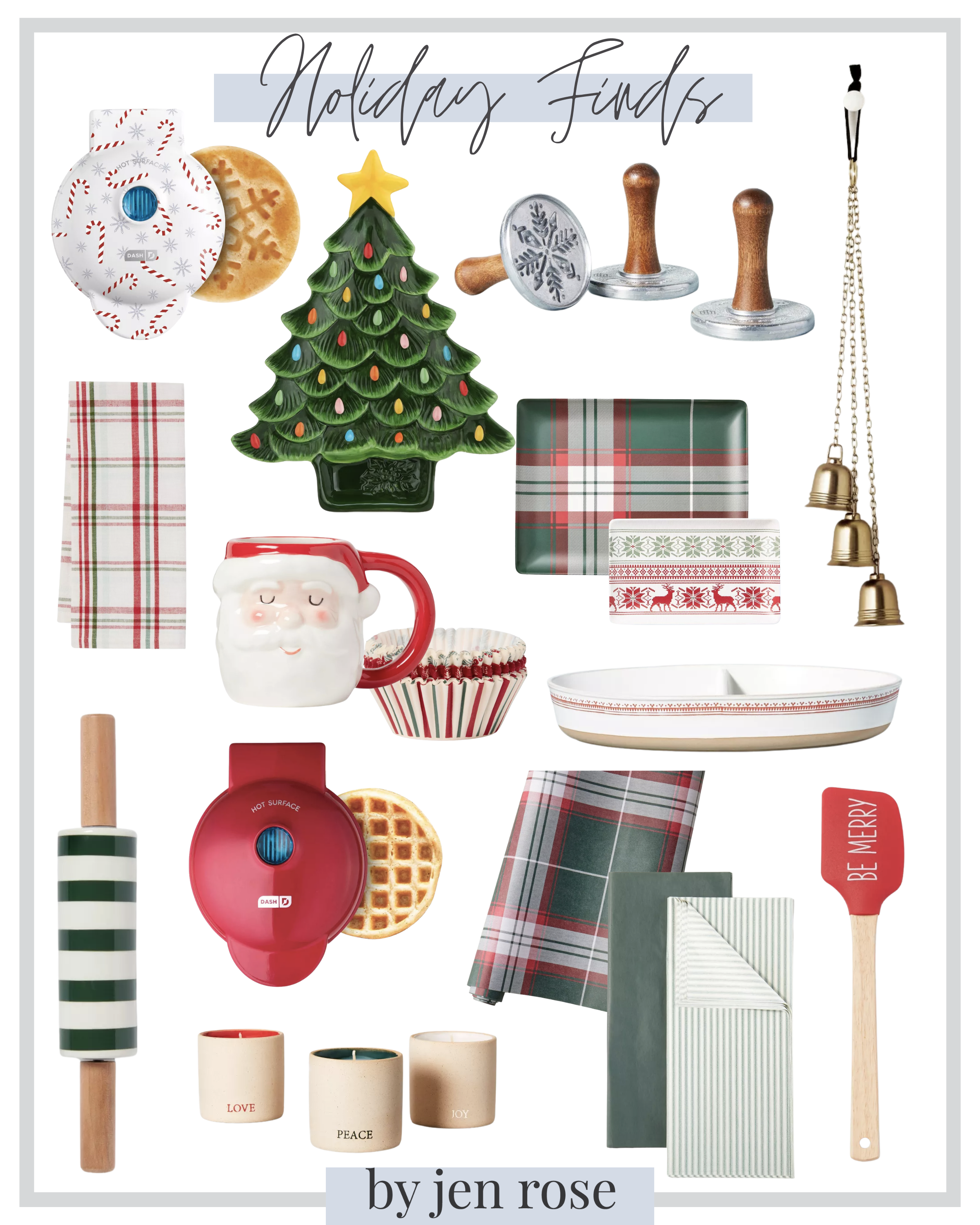 Last Minute Home Finds
Most of us have already put our decorations out for the Holidays, but some last-minute touches are never a bad idea. I have recently discovered this Bell Brass Metal Door Swag and have been hanging them everywhere in my home. But, of course, the best thing about the holidays is the candles, and these Raw Ceramic Love/Peace/Joy Sentiments Candles are simple but perfect for your coffee table. I usually keep my dining table set for decor purposes during the holiday season. These Trim Divided Stoneware Oval Serving Tray and Mr. Christmas Ceramic Serving Tree Platter make the perfect duo.
Christmas Baking Essentials
One of my favorite family traditions is making homemade treats with my kids; of course, it must be festive. Starting with the basics, Santa would definitely appreciate this Snowflake Metal & Wood Cookie Stamp on his cookies this year. For those busy mornings during the holidays, grab this Dash Snowflake Print Mini Waffle Maker; the kids will love this. One of our favorite treats is cupcakes, and I found these adorable Paper Snowflake and Holly Baking Cups. Pro-tip- you can also make other fun appetizers for Christmas parties and serve them in these papers!
Fun Christmas Finds
I found some fun items that might be handy in your household this season. I could not resist this Christmas Santa Mug, a great stocking stuffer for mom or dad. I always try to switch out my kitchen and bathroom towels during the holidays and found these cute Cotton Plaid Kitchen Towels. Lastly, we can't forget the wrapping essentials, and I'm a sucker for coordinated presents under the tree. You can't go wrong with this Winter Plaid Printed Holiday Gift Wrap and Ticking Stripe & Solid Tissue Paper.
Christmas is so close; my family and I could not be more excited. Still trying to get in all the last-minute shopping, Santa's favorite helper right here. I hope you enjoyed today's post; tell me some of your miscellaneous Christmas essentials in the comments. You can shop all of these items here:
---